Here is a Helpful Guide.
There is no doubt that sailing can create a unique environment to build a stronger bond with those aboard. The idea of having the family join the crew certainly has a romantic ring to it, with the notion of creating unforgettable memories as you sail into the sunset. But we all know when the wind picks up and the swell rolls in, sailing can also become a pressure cooker for a social experiment gone wrong. So, we have put together some helpful tips and tricks to ease the pressure, setting you up for a positive experience for everyone in the family on your next sailing expedition.
Choosing the Right Boat for Your Family
The first step to sailing with your family is choosing the right boat. There are a few things to consider when making your selection, such as the size of your family, your level of experience, and the type of sailing you plan to do.
For families, we recommend starting with a medium-sized boat that's easy to handle, such as a sloop or a catamaran. These boats offer enough space for the whole family to comfortably move around and enjoy the ride. It's also important to choose a boat with a shallow draft if you plan on sailing in shallow waters.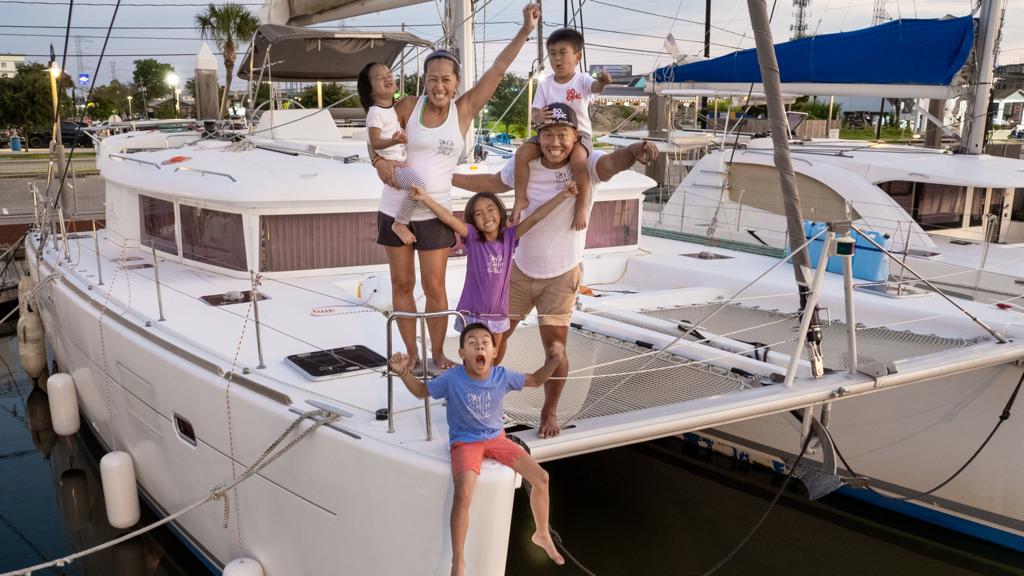 Pre-Planning
As with any adventure, preparation is key! Before setting sail it is paramount to take a walk-through and check all the essential components, attending to any areas of concern. To ensure your boat is ready for a herd of tiny feet you might also consider installing extra safety equipment, such as safety netting around the stanchions, adding additional hand holds/or safety line points, and gates or barriers to the cockpit.
Safety Tips for Sailing with Your Family
Sailing with your family can be a fun and exciting adventure, but it's important to always put safety first. Here are some essential safety tips to keep in mind:
Always wear a life jacket, especially for children.
Familiarize yourself with the boat and its equipment before setting sail.
Check the weather forecast before heading out and keep an eye on changing weather conditions.
Teach your children basic sailing skills and safety rules.
Keep a first aid kit on board and know how to use it.
Fun Activities for Kids While Sailing
Sailing with your family doesn't have to be all about the technicalities. There are plenty of fun activities for kids to enjoy while on the water. Here are some ideas to keep your little ones entertained:
Let your kids take turns steering the boat (with adult supervision, of course!).
Play games such as "I Spy" or "20 Questions."
Bring along some binoculars for bird watching or sightseeing.
Go fishing and teach your kids how to reel in a catch.
Take a break and go for a swim or snorkel.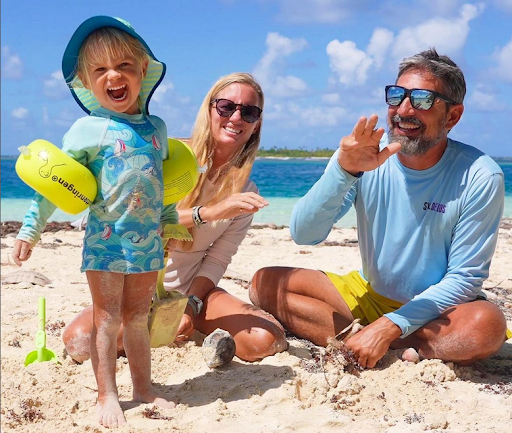 Sailing Destinations for Families
Now that you have your boat and safety tips in order, it's time to plan your sailing trip. There are countless destinations around the world that are perfect for sailing with your family. Here are some of our top picks:
The Caribbean: crystal-clear waters, white sandy beaches, and warm weather make the Caribbean a top destination for family sailing vacations.
The Mediterranean: with its rich history, stunning coastlines, and delicious cuisine, the Mediterranean is an ideal destination for families who want a mix of adventure and culture.
The Pacific Northwest: if you prefer cooler temperatures and breathtaking scenery, head to the Pacific Northwest. Sailing through the San Juan Islands is a must-do for any family sailor.
Perfect Provisioning
There is nothing like a moral boost that a delicious meal or tasty snack. And with all of the fresh air and abundance of activity this will likely build a hearty appetite amongst all the crew. So, keeping the galley stocked with a selection of quick and tasty staples can help avoid any 'hangry' family members. Keep in mind that easy to make meals and snacks allow for reduced stress meal preparation, optimizing time spend enjoying sailing!
Schedule? There is no Schedule
If you have been cruising for a while you will likely have already learnt from your previous mistakes about setting time frames, schedules and deadlines. Cruising with the family is no different. Ideally you want to limit any unnecessary pressure, avoid rushing and potentially having to travel in bad weather or rough conditions. Having the time to move with the weather and also move in tune with your family's needs will result in a far more enjoyable experience and allow for spontaneous family adventures along the way.
Overview
Sailing with your family can be a thrilling and rewarding experience that creates lasting memories. With the right boat, safety precautions, and fun activities, you'll have a blast on the water. So don't wait any longer, set sail with your family and enjoy the adventure of a lifetime!
FAQs:
Q: Do I need to have previous sailing experience to sail with my family?
A: While previous sailing experience can be helpful, it's not necessary. We recommend starting with a smaller boat and taking a few lessons before setting out on a longer trip.
Q: How do I handle seasickness when sailing with my family?
A: Seasickness can be a common problem when sailing, especially for those who are not used to being on the water. It's important to take precautions such as bringing medication and avoiding alcohol and greasy foods before sailing. It's also a good idea to stay hydrated and to focus on the horizon or a stationary object to reduce motion sickness.
Q: Can I sail with my baby or toddler?
A: Yes, but it's important to take extra safety precautions and keep a close eye on your little sailors. It's generally recommended that children be at least 6 months old and weigh at least 18 pounds before they can safely wear a life jacket. It's also important to consider the child's overall health and ability to handle the conditions on the boat.
Q: How do I make sure everything goes perfectly taking my family out for the first time.
A: Every trip is memorable, but perhaps none more memorable than the ones that didn't go "perfectly". So relax, make sure your prepared, and if something goes wrong you may get a laugh, have a good story, and a chance to teach your little ones ones important life skills.
A Day in the Life of a Sailing Family
Inspiration
At Precision Sails, we take pride in sponsoring sailors worldwide, including those with young families who embrace the adventure of living on the sea every day. Our inspiration comes from them, and we hope you also feel inspired to take your own family out. Check out our partner page to explore a complete catalog of our partners and watch some incredible video content featuring our sails and their adventures.