Structure

Location
Our headquarters are Based in Sidney, on Vancouver Island in beautiful British Columbia. That's it, one location. This centralized approach allows for efficiency between our teams. This speed allows Precision Sails to focus on customers and their orders like no other sail loft can. Our centralized approach allows us to operate without the delays and limitations of a regional, or franchise model loft.
To understand who we are a little more, watch the Meet the team video:
Sail Design
Our sail designs are done in-house in our design loft, and all of our clients are given the opportunity to speak with their assigned designer about their sails. All designs are created in our head office and our designers customize every order, unlike many sailmakers in the industry, nothing is standard.
Sail Manufacturing
Just like we keep our sail designs in house to improve their quality, our sail loft exclusively produces Precision's sails. We determine and control every aspect of production, from cloth selection, hardware, through to printing and quality control. This allows us to make the highest quality sails available in the market for a competitive price.
Production Capacity
Our production capacity is as large as the multinational sail makers. We can focus on your needs and accommodate custom orders.
Delivery Time
Precision Sails offers a quick delivery time to virtually any address in the world, as well as, to yachts-in-transit. Delivery times are seasonal, but typically takes place approximately 5 to 7 weeks after the confirmation of measurements. Checkout our shipping page for more information.
Pre-Purchase

Inquiry response time
Our response time is typically within 24-48 hours. This is a fraction of the time when compared to other lofts. You can reach anytime at: Call: 1-888-958-5638 Email: info@precisionsailloft.com
Quoted Options/Customization
Precision Sails quote customization options include over 250,000 types of sails for over 15,000 sailboat models. Click here for step-by-step instructions information on how-to fill out a quote form.
Sail Cloth
We have a wide range of sail cloth available from the premium Racing and Cruising Laminates to the more value driven cruising Dacrons. To see all available cloth click here.
Sail Design Options
All of our sails are custom designed specifically for your boat which also enables us to make changes that you wouldn't get to otherwise. By customizing every design not only do you get the best possible fitting sail for you boat, but your sailing style too.
Information Provided and Consultation
We encourage you to work one-on-one with our sail consultants. They will have the answer to any of your questions. You will also be asked questions, about what kind of sailing you do, and what your plans are with your boat, to pinpoint which sail is the best for you. Precision sails thrives on communication. We want to satisfy your needs and exceed your expectations when creating, designing, making and delivering your sails.
Sail Design

Measurements Required By Sailor
It is the responsibility of the sailor to measure their sails.We have dozens of YouTube videos that outline the process of how to measure different parts of your boat. Click here for a playlist on how to measure for a new head sail.
All measurements which are required to make your custom sails are outlined in the customer portal and forms provided to you. The cost of sending a specialist to your marina to measure the sails is saved and passed on to improved sail design resulting in a better functioning sail.
Measurement Consultation
After your order has been placed our customers are consulted with the process of taking a few easy sail measurements. Our team then reviews your information to ensure we have everything we need. If more information is required regarding your sails, our measurement team will reach out to you and ensure we have all the information we need to make you an amazing sail.
Information Provided
The Precision Sails website has a wealth of knowledge regarding all things sails. Ranging from cloth types to other sail options (battens, reefs, reinforcements, stitching, custom logos, insignias, patching).
Along with this, Precision Sails has hundreds of videos with various topics including: New Sail Walk Arounds, How To Videos on Sail Measurement, Sail Design, and our Ask Precision Sails series where we answer questions provided by sailors! You will also find some introductions and a walk through the sail loft. Click Here for a link to our FAQ playlist.
Design Consultation Live 3D
Our live 3D consultation is an exclusive service we have the privilege to offer. It is a one on one conversation between customer and sail designer while viewing a 3D rendition of a customer sail in a live video format. This happens over a screen sharing and voice application where every aspect of a customer's sail is discussed and customized. This ensures accuracy in the measurements and design of the sail while allowing customers to ask in-depth questions and a designer answer them. This service is great for those looking for the best performing sails, or those interested with the process of sail design and manufacturing.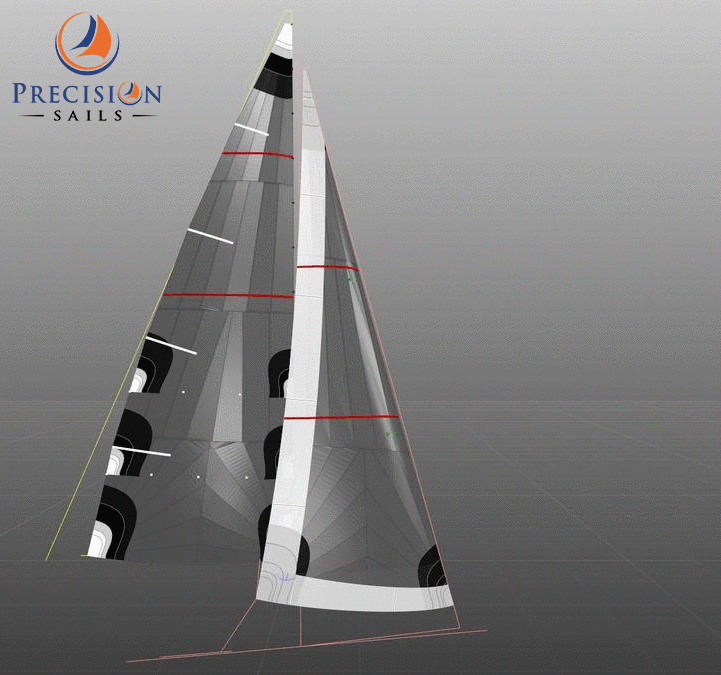 Post-Purchase

Warranty
Precision Sails offers an Extensive warranty like none other. Click here for an outline of our warranty policies.
The Precision Sails standard for quality requires all of our sails and custom products to go through an intensive quality control check in both design and production stages to ensure your sail is exactly as designed. This process involves checking measurements, quality of material, and hardware for the high quality we strive to produce.
Recutting Sails
We do not re-cut sails. We remake sails to ensure we do not miss any critical details. We have developed this process to be able to provide the best service possible.
Repairs, Returns and Storage/Cleaning
Because we do not have physical locations around the world we don't offer in-house repairs but will refer happily refer you to pour list of local sail lofts for their services. Additionally, we do not provide cleaning or storage services. For information regarding returns please refer to this link.
Customer Portal and Communication
The levels of communication between customers and Precision Sails is what sets us apart from the competition. The Customer portal is one of the tools we use to communicate with.
After a customer requests a quote and places an order they are given access to the customer portal. This gives our clients a hub of information, measurement instructions, and a tool to communicate with the measurement, design, and shipping teams responsible for their sails. In the portal, customers exchange files, see progress reports, and watch tutorials. It is a unique experience in the sail making world.
Communication between customer and precision sails is paramount. It occurs throughout the entire customer experience and sail design process. It is the key to our success.
The following quote from a previous customer highlights our communication and portal capabilities:
"Everything is in the name. Precision Sails. Precision in quoting, design and production. The entire team is all about getting you the best sail possible at an affordable price. During the process their portal keeps you up to date and informed. But the more important fact is that they pick up the phone to call you. This is not a faceless internet organization, but real Canadian people designing tailored sails at great prices, produced on a timely basis, with personalized service at every step of the process." – Leon F.
Why Choose Precision Sails
At Precision Sails we take pride in our design and our commitment to educate and inform sailors. We are here to support you while you cut the lines and sail away. The things you read and watched in the above sections are reasons we are able to be competitive in our offerings while having excellent customer service, premium design, and craftsmanship.
Is Precision Sails As Good As A Local Loft?
A question we often get is can we build a sail as good as your local loft. The answer is: of course we can. We actually put more details into our sails than most local lofts, unless you pay at least double the price for the sail. It's always exciting to get a new sail, so lets build the right sail for you with the right quality.
Questions?
Reach out.
We love hearing from you, give us a call at 1-888-958-5638 or send us an email at info@precisionsailloft.com and we will happily answer as fast as possible.