Getting The Best Sails From Precision Sails
First things first – you need to request a quote!
While you wait for your quote get to know the  Precision Sails team, or checkout our Youtube Partners such as SV Delos, Sailing Soulianis, Sailing Uma, Nahoa, and more!
Once you're ready to discuss your sail options or if you have more questions, setup a time to chat with one of our Sail Consultants.
How to Get the Most Out of Precision Sails – Working With Sail Consultants and Sail Designers
Most loft's sailcloth comes from the big name cloth manufacturers: Contender Sailcloth, Bainbridge International, Dimension Polyant, and Challenge Sailcloth. Visit our  sailcloth information page to learn about our large assortment of sailcloth offerings.
The difference in a sail's quality comes from the design, production, and the customer service throughout. These are at the core of the Precision Sails process. We strive to educate and provide the highest quality sails to our sailors. Our consultants know their stuff and want to get you the sails and accessories which best suit your needs.
The design team is based in-house and uses industry leading technology to develop and model your custom sails. Our designers will work with you one-on-one to create the best sail for you. We care about the details and are ready to accommodate any request.
One detail we strive to get right with sailors is the your sailboats measurements. Taking your measurements is a crucial part of ensuring your sails with fit and perform perfectly. Once you place an order with Precision Sails you will work with our Measurements Department and the simple measurement forms and how-to videos for each sail you've ordered. Click here to read our How to Measure for a New Headsail blog and gather an understanding of how this process works.
Measuring your boat for sails can seem daunting, but with the simplified forms and help, you can quickly and accurately pass that information onto your designers allowing them to create a much better sail.
What Information Will Your Consultant And Designer Want?
Where you are sailing, and future plans for the boat.
Are you a racer or cruiser?
The kinds of conditions you sail in.
All of these lead to a unique sail to better suit your needs.
Different Boats for Different Folks
You might think your boat is just like the next guys. But the truth is these sailboats are handmade. There can be a lot of variation between the same years, makes, and models. Not everyone is cruising around on a brand new boat. It could be decades old, during its lifespan any one of the previous owners could have made modifications to the rigging, and other equipment and components on the boat. This is another reason why we take a custom approach to every sail and offer a simple measurement process. We have a wide variety of resources for you to learn about measuring your boat properly so we can make the best sail for you.
We also have a wide variety of educational content and demonstration videos on our website and YouTube channel. As well as Blogs, and various other posts online which you can use to educate yourself about all things sailing. You can follow us on social media – ask us any questions you may have and we will be happy to answer.
We love seeing our customers sails in action and would be grateful to receive pictures and video from you. We might even feature you on our social media pages.
Get the Longest Lasting Sails
Sails do not last forever, they degrade slowly over time with use. Following basic maintenance tips can drastically increase the life of your sails.
Keep Your Sail Out Of The Weather When Not In Use
After the sailing season many will not be using their boats for a while. There are only disadvantages to keeping your sails on the boat. The only thing that can come from this is damage. Your sails are an investment and storing them correctly will help prolong their lifespan. If you leave a Dacron sail up in a very moist environment up on the rig furled for a couple months you may have mildew issues. Bring the sail down, wash it, let it dry and throw it in a bag.
When you order a sail with precision sails they come in a bag – it is the perfect storage device.
If you don't have a storage device – you can browse for a couple different options of bags and storage devices here.
Cleaning Sails
Washing your sails is an important part of getting the most out of them. It is also a convenient time to inspect them for wear and tear and make any necessary repairs.
The best method for cleaning sails is to scrub them using a soft bristle brush and mild soap or detergent with warm water.
Click here for more information on helping reduce and remove mildew, rust and other markings on your sail.
One of the main reasons to clean your sail is to remove the salt. When you're out sailing, the air (even on calm days) picks up salt from vapors released by the water and deposits on anything it touches… including your sails. Not only does salt attract moisture, it gets in every nook and cranny. The salt is coarse and contributes to chafing, reducing the life of your sail.
If you are going to store your sails either furled or in a sail bag it is important to dry them. On a sunny day hoist the sails up and let them dry for 20 minutes before folding and bagging them. Here we have a blog post and video on how to fold your sails.
Sunlight And UV
Another enemy, sunlight, is a silent killer of your sails. The UV rays from the sun slowly deteriorate the woven fibers of the cloth. This is why we recommend installing UV protective layers to your sails. UV protective layers are installed onto furling sails on the edges like the picture below. This ensures, as the sail is furled, it is covered with UV protection. For Mainsails attached to the mast, you have options like lazy jacks and cradles – visit this blog post to learn more about mainsail coverings.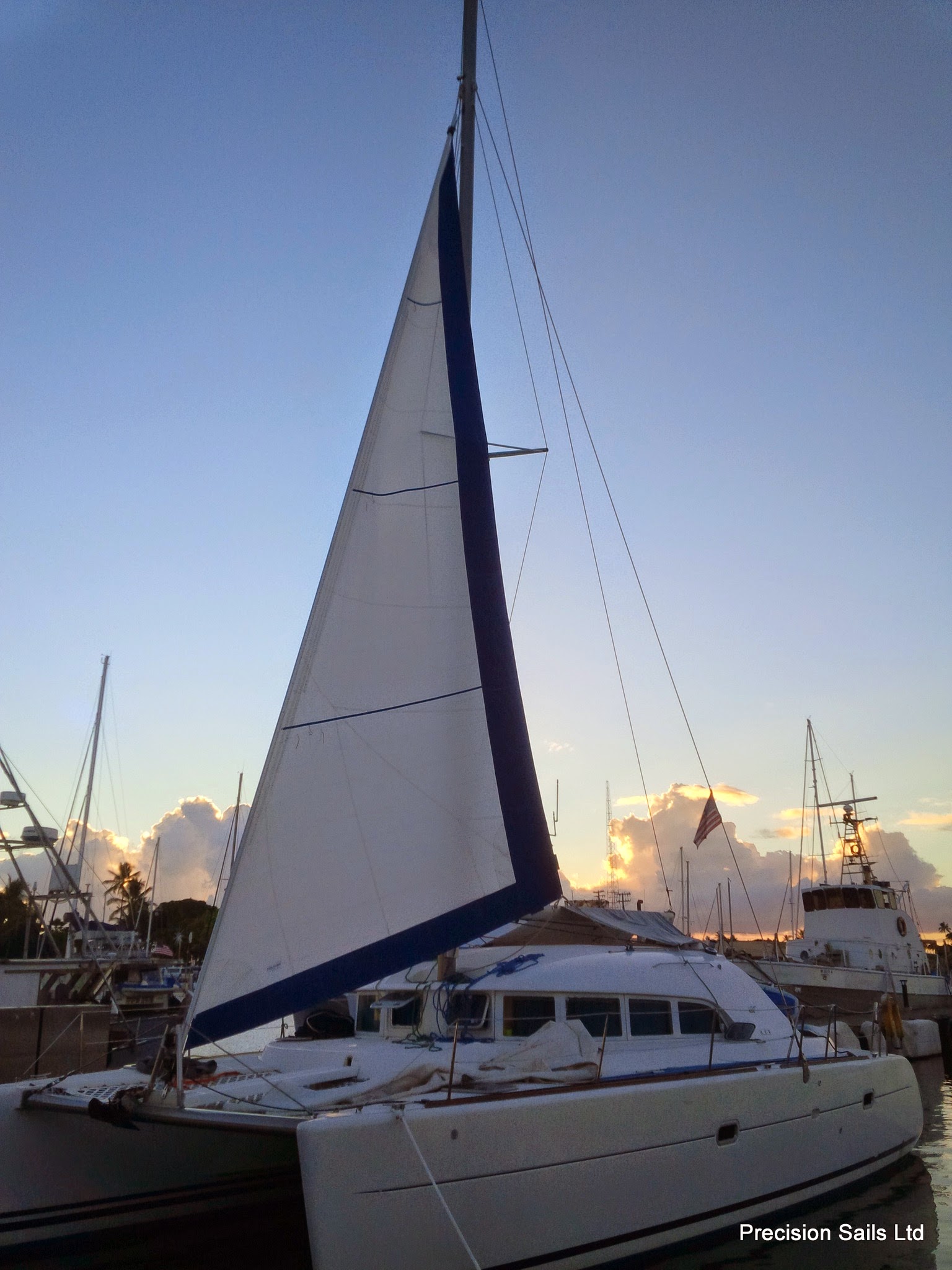 If you're leaving for a few months it doesn't matter what UV protection you have, you still should take your sail off the mast or furling unit and store them with the process outlined above. You will get years more out of your sails this way. We have an extensive blog post discussing all things UV.
Summary
Precision Sails is eager to provide you with the best customer service possible. It easy to get an amazing sail from us. The key to this lies in communication, so let's start talking. Request a quote from us and experience the Precision Sails Process.