Which Material? Which Cut? Which Designer?
Watch as Steve and Judy walk you through the process of getting new sails and dive deep into the information that is available to help sailors make better-informed decisions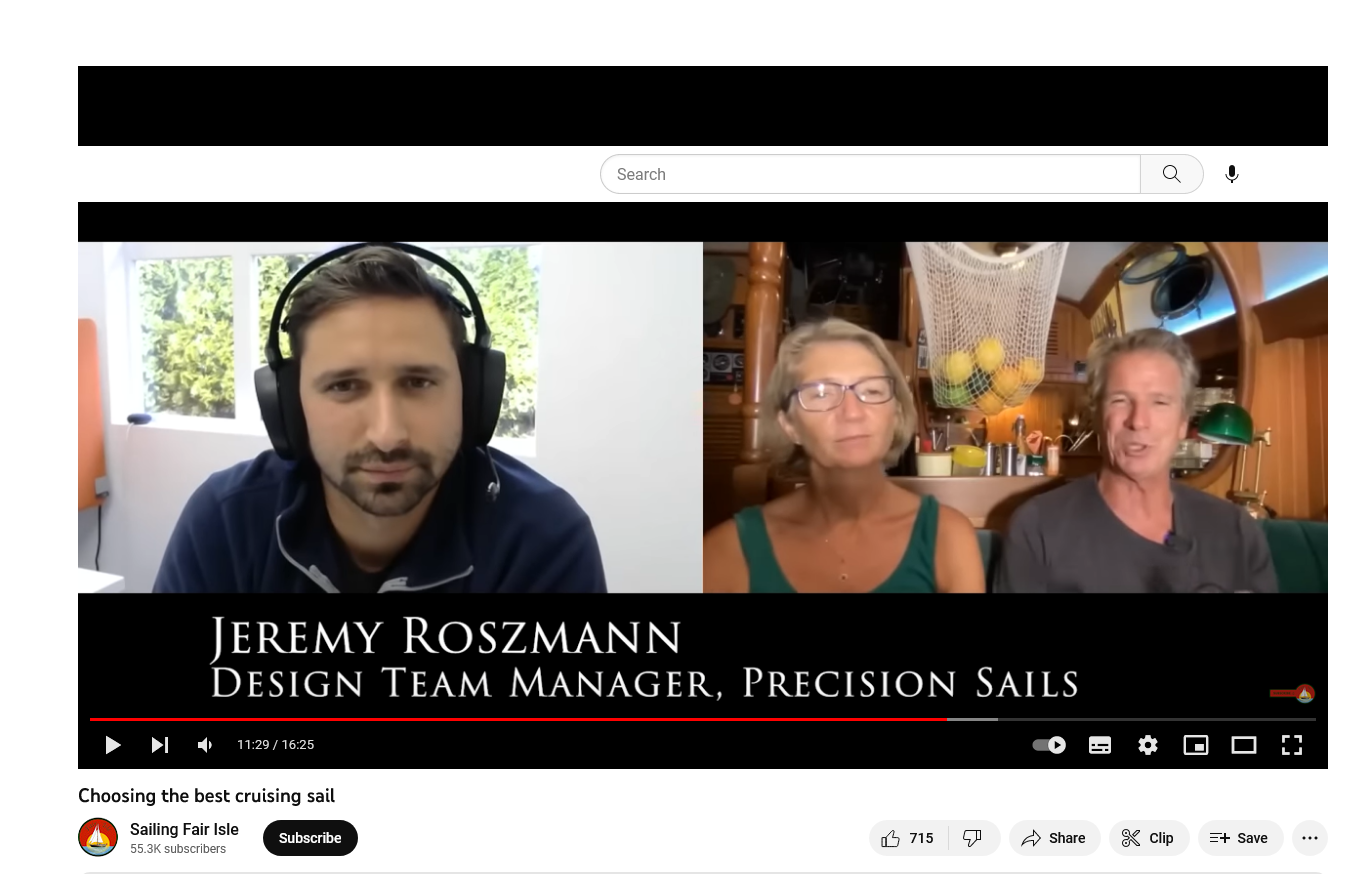 Choosing the Best Cruising Sail: A Guide to Selecting the Perfect Sail for Your Boat
Sails are an integral part of any boat, yet they are often overlooked. As sails age, they lose their efficiency and start to stretch, causing a decrease in drive and an increase in heeling. When visible wrinkles begin to show, or when rips and tears start to appear, it's a clear indication that the sail is no longer in a usable condition. While you can stitch minor tears yourself to get to the next port, it's crucial to replace your sail as soon as possible to ensure a smooth sailing experience. We have some helpful information about inspecting your sails that you can read here.
At Precision Sails, we understand the importance of sails and provide tailor-made solutions to our clients. Recently, Sailing Fair Isle reached out to us to replace their failing headsail for their Hans Christian 48T. They documented the experience from their point of view and we are delighted to share their perspective with you.
Read along for insights into selecting the best cruising sail for your boat.
Consultation and Measurement
At Precision Sails, we believe in a transparent design process, and a communication-focused order process. It all starts with requesting a quote and setting up a time for a consultation for our team to learn more about your sailboat and what you're looking to gain. Whether it's performance, reliability or a simple replacement our team can help!
We'll also enquire about the type of sailing you plan to do to determine the best sailcloth for your needs. In this aspect Precision Sails stands out from the rest, our cloth selection is the largest in the industry. Not being locked in by contracts with cloth manufacturers allows us to make impartial recommendations on the best cloth for your intended type of sailing. We'll explain our cloth series and discuss the cloth and sail options that align with your plans.
Once you're comfortable and ready to place an order the next step is the measurements and design process. Our team of experts designs thousands of sails every year, and we aim to provide accurate and insightful design consultations that are tailored specifically to your needs. Our measurements team will assist you in confirming the measurements of your boat's rigging and old sail. Then our design team will walk you through a one-on-one design consultation and explain the art and science behind making a custom sail.
You can learn more about each stage of our process here.
So Why Buy a Sail From Precision Sails?
At Precision Sails, we're committed to providing a seamless experience for our sailors. Our aim is to make buying a new sail easy and stress-free. We believe in supporting our clients throughout their sailing adventures, and we're always here to answer any questions or concerns that you may have. Our team prides itself on our customer service and process, and we've got your back if anything goes wrong. If you want to know more about what makes Precision Sails stand out as a company you can read more here.
Did you know Precision Sails has the highest-coverage warranty in the industry? You can read more about our perfect fit guarantee here.
Conclusion
A new sail can significantly improve your sailing experience and make your journey smoother and more enjoyable. At Precision Sails, we provide tailor-made solutions that are specifically designed to meet the needs of our sailors. We believe in transparency, and our design process is a testament to that. Our aim is to make buying a new sail easy and stress-free. If you're in the market for a new sail, reach out to us today, and we'll be happy to help you get started on your sailing journey.