How to Order a New Sail
Request a Quote
To order a sail from Precision Sails you must first request a quote. Visit our website or give us a call at +1 888-958-5638. On our website you will find our quote tool – Here you can tell us about: Your boat model, type of sails you're looking for, your time frame, sailing style, and any other information you want to share with us that will help us make the best sail for you. Whether you're browsing for prices or need a sail immediately. We will get you the information you need within 24-48 hours. For more information on our quoting process click here or request a quote!
Cloth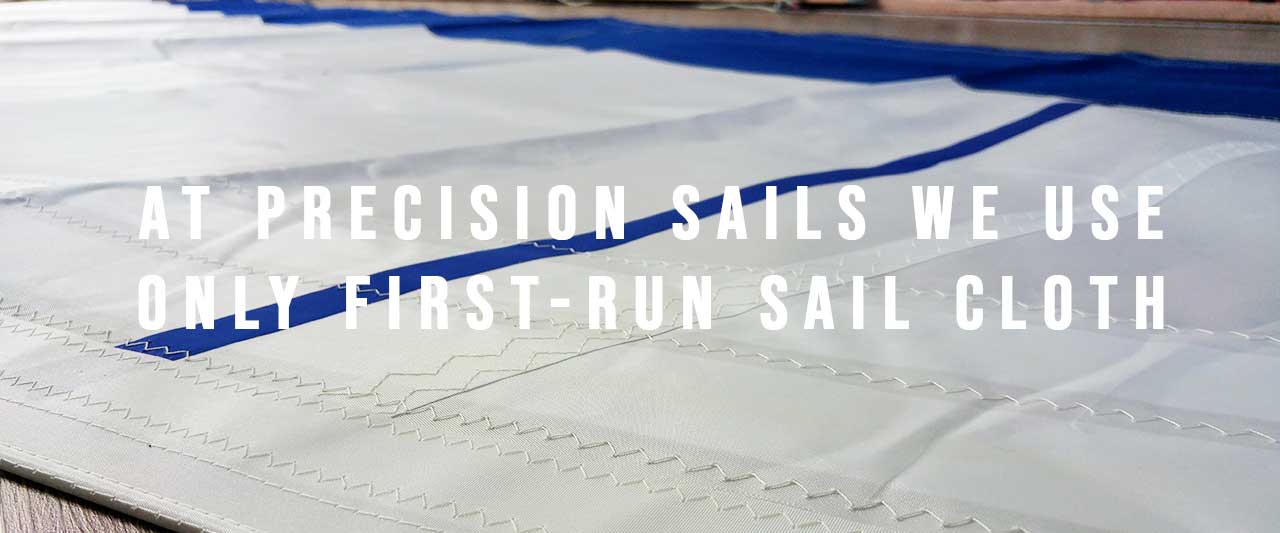 The next step is to Browse the different types of cloth we have available and think about what kind of sailing you do… are you a racer or more a cruiser? Perhaps long voyages and circumnavigation are more your thing? Maybe you like to fly right past the competition as if they were floating there like a seagull? These are all aspects of your sailing style which will influence which sail cloth will perform the best for you. This page has a plethora of information regarding our offerings and all things sailcloth.
Details and Accessories
The next to consideration are the details and accessories. Precision Sails takes details seriously we put more time into the design and detail than anyone else, that's what makes us different. Sail hardware components such as: Battens, Reefs, Sail Controls, Identifications, Reinforcements, Stitching, Luff attachments, Headboards, Foot and Clew, Lines and Cleats, and Sail Indicators are important things to ponder which affect the performance of your sail. The following video from one of our senior designers, Jeremy, describes the intricacies of mainsail luff attachment hardware and systems.
One of the more fun parts of ordering from Precision Sails is customizing your sail. We offer custom insignia and graphic printing on your sails. It can be anything you want. Perhaps you want a custom, stylish look to your sail without losing any quality in the cloth for aesthetics. The Tuxedo package offers a good solution in this case. Don't be afraid to put a little something of yourself on your spinnakers. These sails are big and beautiful, people watch.
An example of an accessory you might want is a spinnaker sock – see the following video to see how it works
Team
After you think about all the things you might need for your sail, you can learn more about the team at Precision Sails. Ordering new sails is a big decision, and you want to make sure the people you are working with are doing the best job possible. Knowing a little about the people behind the design and production of your sail is a great way to understand how invested in the sail making process our team is.
If you visit our Facebook review page or Google review page at you can see how other customers' relationships with us have been.
Another good place to learn about sails and our company is on our YouTube channel. We have playlists and videos on topics like: how to measure your mainsail, the most crucial part of a sail design, how to fold sails, or where to install a preventer on a boom. You can ask us a question on social media and we will provide you an answer.
Review your Quote
When you first receive your quote you will have two options to view it. You can download it as a PDF file or view it in a browser. We recommend viewing it in a browser. For further details on how to read your quote follow this link.
In your quote will find:
Links to our YouTube partner pages. This will take you to a series of pages dedicated to showing the awesome content that these channels make and feature our sails in beautiful locations!
A quote summary which shows:
Rigging Specifications: Not to be mistaken with sail measurements. These specs are for calculating the rough sail area needed to build your sail.
Sails Requested and Price: These are a description of each type, and size of sail broken down by their cloth categories. The pricing with available discounts from the current promotions, will be beside each offering for easy comparison.
Sail Consultant Calendar: Our calendar app allows you to book an appointment with a sail consultant. Pick a convenient time below and our team will reach out and answer any questions you may have:
There is plenty of information found on the quote you received but please don't feel overwhelmed. We are happy to help with any concerns and questions.
Consultation
We encourage you to work one-on-one with our sail consultants. They will have the answer to any of your questions. You will also be asked questions, about what kind of sailing you do, and what your plans are with your boat, to pinpoint which sail and accessories will work the best for you. Precision sails thrives on communication. We want to satisfy your needs and exceed your expectations when creating, designing, making and delivering your sails. Click here to schedule a consultation.
Ordering
It is finally time to order your sail! You can place an order by giving us a call at +1 888-958-5638 emailing us, or using our new ordering app, which can be found in your quote.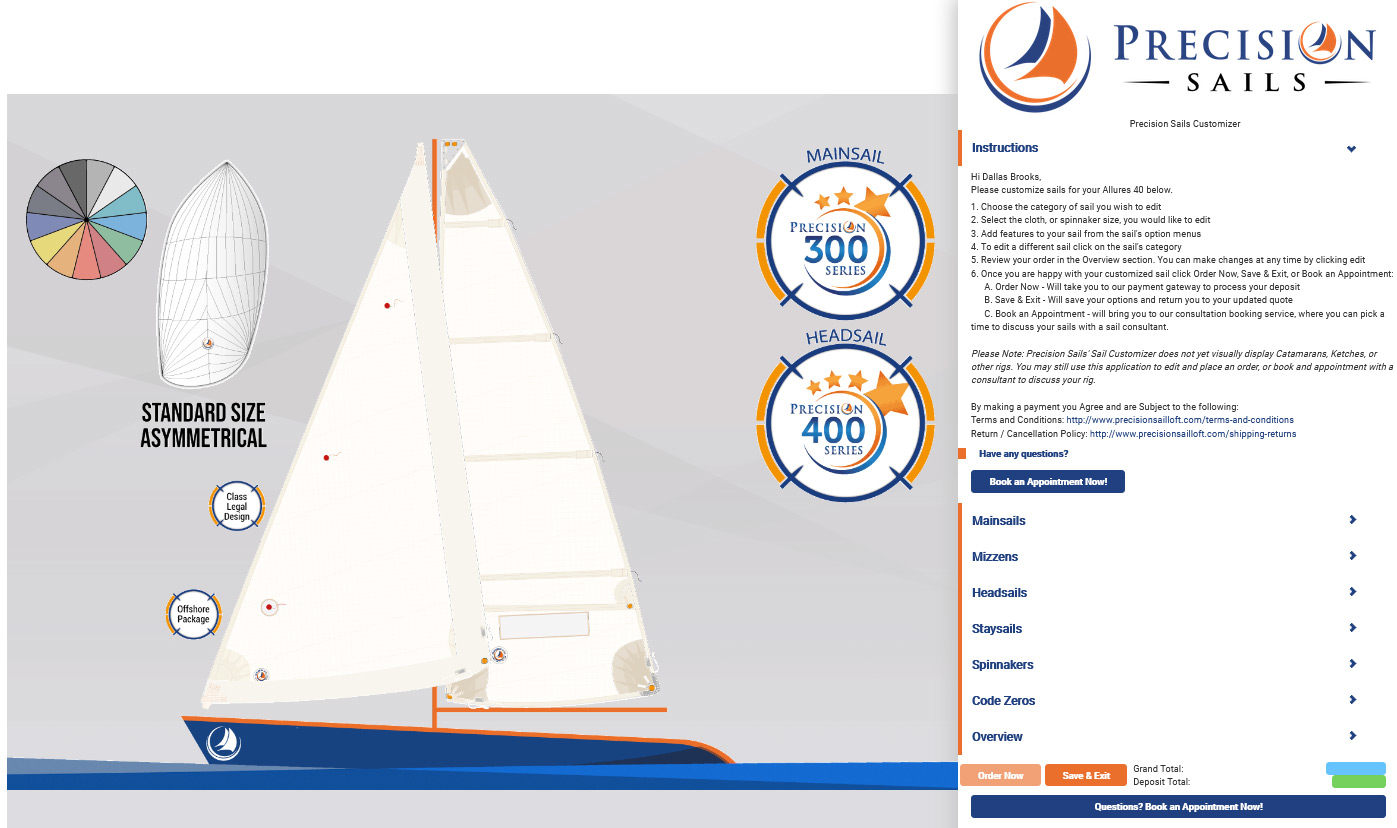 After placing an order you will be given login information to access the customer portal. This is the place to communicate with the Precision Sails team, upload your measurement forms, track your orders progression, and watch tutorials. No other sail maker has a system like this.
At this point you are ready to take your boat's measurements and send them to our design team! Soon your sail will be put into production.
Our previously mentioned YouTube channel also has dozens of videos demonstrating how to measure your boat!
Congratulations you have ordered from Precision Sails! We are excited for you to enjoy your new sails.