"*" indicates required fields
Your Trusted Partner for Beneteau Oceanis 350's:
Building Lasting Relationships Through Quality and Precision
Our team of Precision Sails experts conducted extensive research on the web to gather information about the specific sailboat in question. We thoroughly scoured various online sources to compile relevant and accurate information for the boat owner. Our team carefully curated the information to ensure that it would be helpful and informative for the user. We understand the importance of having a deep understanding of your boat's features, and our goal is to provide comprehensive and reliable information that will enable boat owners to make informed decisions about their sailing experience. By sharing our expertise and knowledge, we hope to empower our customers to get the most out of their sailing adventures.
Quote my Beneteau Oceanis 350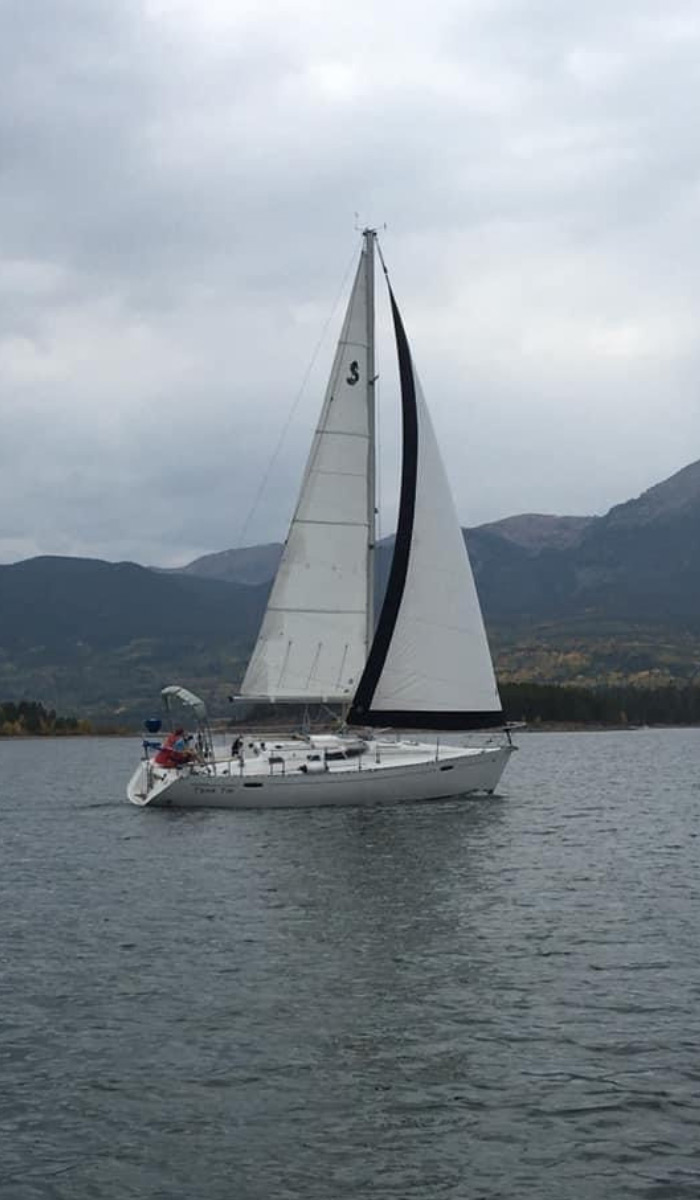 All About Your Beneteau Oceanis 350
Rig Specifications
These are the specifications provided by the designers, but even from the factory, these boats may not be identical. The reason for this is that the sail industry often contracts manufacturing to different sources in order to achieve economies of scale. What this means is – your Beneteau Oceanis 350 may be more unique than you initially thought.
It's important to note that boats are also frequently customized, so if you suspect that work has been done on yours, it's best to take your own measurements. When ordering a sail, we will advise you if using the manufacturer's specifications is appropriate, or if we require you to complete our own measurement forms.
| I: | 41.47 ft / 12.64 m |
| --- | --- |
| J: | 12.80 ft / 3.90 m |
| P: | 35.76 ft / 10.90 m |
| E: | 11.48 ft / 3.50 m |
Performance
The Beneteau Oceanis 350 is celebrated for its versatile and balanced performance, appealing to a diverse range of sailors. With an efficient hull design, it navigates various weather conditions with stability and responsiveness, excelling in upwind performance and minimizing leeway. This sailboat's adaptability shines, catering to leisurely coastal cruising and competitive club racing, offering a responsive helm and user-friendly sail controls. It seamlessly combines performance with onboard comfort, featuring a spacious interior layout, ergonomic cockpit design, and high-quality construction, all geared toward creating an enjoyable and accommodating sailing experience. Whether you're seeking thrilling adventures or relaxed journeys, the Beneteau Oceanis 350 delivers a well-rounded performance, making it a favorite among sailors with diverse preferences.
Sail Plan
The sail plan and rigging play a crucial role in the overall performance and functionality of a sailboat. The rigging of the Beneteau Oceanis 350 is a well-thought-out system that enhances the boat's overall performance and ease of handling. Its standing rigging provides stability, while the running rigging and sail controls allow for precise sail adjustment. With quality materials and strategic hardware placement, the rigging contributes to the sailboat's reputation for versatility and enjoyable sailing experiences, whether cruising or racing.
History
The Beneteau Oceanis 350 has a storied history dating back to the late 19th century when Benjamin Beneteau founded the company. Initially crafting fishing vessels for local fishermen, Beneteau shifted to fiberglass sailboat production in the 1960s, gaining fame for their innovative designs and affordability. In response to the demand for cruising-oriented sailboats, Beneteau introduced the Oceanis 350 in 1986, celebrated for its spacious interiors and family-friendly features. Over the years, Beneteau has continued to innovate, cementing its status as a leading sailboat manufacturer, and the Beneteau Oceanis 350 remains a symbol of their commitment to delivering a harmonious blend of sailing prowess and cruising comfort on the open seas.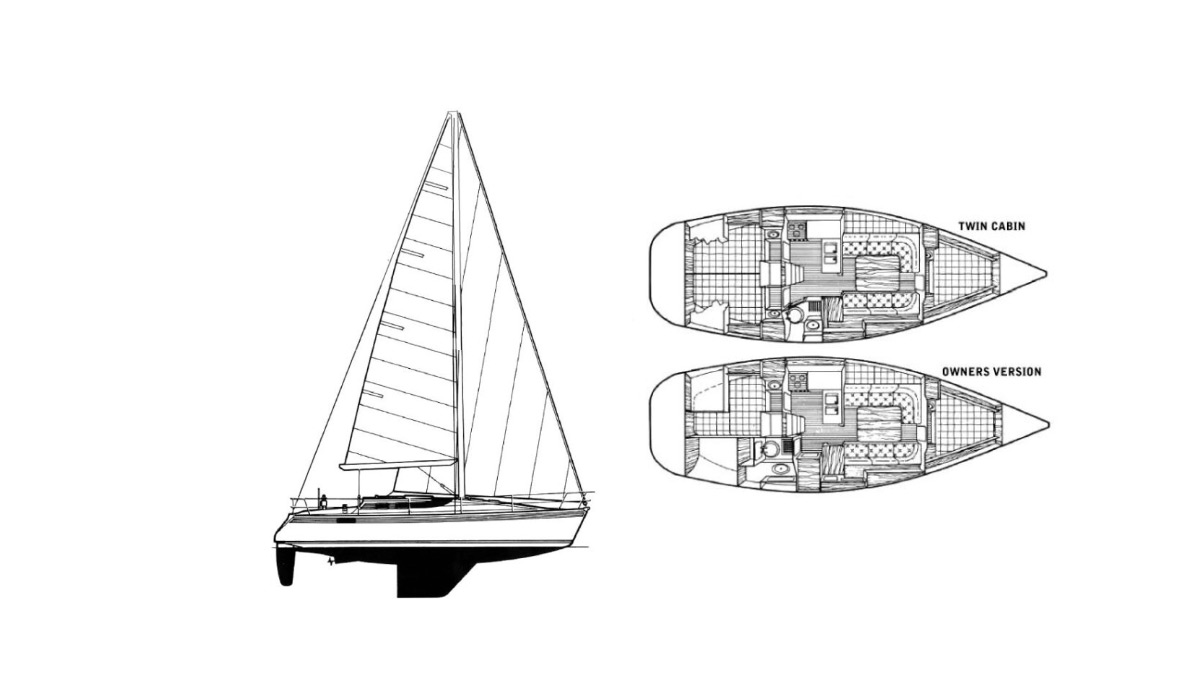 Design
The Beneteau Oceanis 350 showcases a design that blends performance with comfort, rendering it a favored choice among sailing enthusiasts. The hull and deck arrangement feature a moderate to deep draft keel and a user-friendly deck layout, which offers stability, ease of movement and a spacious cockpit for sail handling and relaxation. Below deck, the design emphasizes interior comfort, incorporating large windows for natural light, a functional galley, and well-appointed cabins. The Oceanis 350 excels in diverse wind conditions while embodying Beneteau's hallmark commitment to quality construction and durability.
Overview
The Beneteau Oceanis 350, part of Beneteau's esteemed Oceanis series, is a time-tested sailing yacht celebrated for its blend of performance and comfort. Its design, characterized by a moderate to deep draft keel and an intelligently arranged deck layout, ensures stability and offers a great space for both sail handling and relaxation. Below deck, the Oceanis 350 exudes an inviting aura, with abundant natural light in the saloon, featuring a functional galley, comfortable seating, and dining areas. The multiple cabins and separate head provide privacy and convenience for crew and guests. Sail handling is made accessible through a balanced sail plan, delivering enjoyable sailing experiences across varying wind conditions. Built with Beneteau's hallmark attention to quality and detail, the Oceanis 350 has solidified its reputation as a reliable and versatile choice for sailors seeking a well-rounded cruising sailboat.
Recommended Sails For Your Beneteau Oceanis 350
We would love to help you enhance your sailing experience on your Beneteau Oceanis 350. That's why we have put together a list of expertly curated sail recommendations just for you. You can find more information about each sail and what makes our sails stand out by following the links to our education page.
Request a Beneteau Oceanis 350 Quote
Looking to buy a new headsail or mainsail for your Beneteau Oceanis 350? Request a free quote from Precision Sails for a new custom sail. Our team will work with you to design the perfect sail for you.
Request a Quote