Choosing The Right Headsail LP%
We all want to find that sweet spot in the right size for our next new headsail, a place where we can maximize power without overpowering the vessel. On Ask Precision Sails Darryl has this question from customer Jenny;
"What factors should I consider when deciding on what LP headsail I should purchase for my boat?"
In-case you don't know what LP is: LP is the acronym for luff perpendicular, it is the measurement from the clew corner to the luff, in a straight, perpendicular line at the shortest point (see red line with arrows in picture below). The LP is the relative distance of your boats' J rig measurement to the length of the sails' LP represented as a percentage.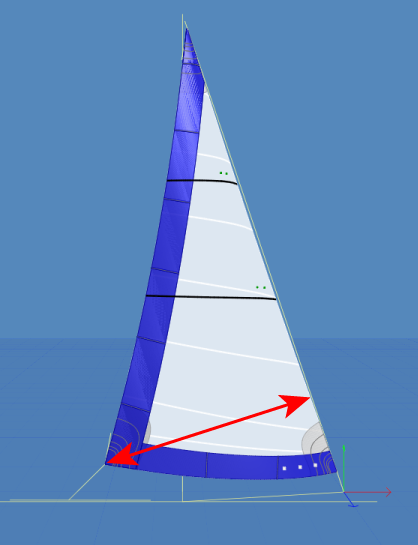 Each vessel is unique in its set up and how it is rigged. The decision process of selecting a new headsail should include your plans for the boat, where will you be sailing and what the "normal sailing conditions" might look like. Let's take a look at each of these factors and how they might assist in determining the size of your new headsail;
Sailing Destinations and Conditions
Depending on your regular cruising grounds will certainly play a big part in determining your sail LP. If you often take your boat out to similar sailing areas, for example out of San Francisco where winds are consistently blowing or maybe you might be in a light wind area like Sydney in BC, both of these regular sailing conditions will require different sails to accommodate these conditions. For light wind areas, it might be possible to safely increase the sail LP whilst in high wind areas you might consider reducing this.
Sailing Type
With racing, you are likely going to have different requirements of your boat and its sails to say, a cruiser or weekend sailor. For the majority of cruisers and weekend sailors, you are looking for sails that are simple, safe and flexible for regular sailing conditions. For many cruisers, they opt for an all-around furling headsail, something that is normally around 135% LP. This is a really flexible size for most moderate sailing conditions. When the winds pick up it is easy to reef it down and will still hold a nice shape, and then easily furl it back out once the winds reduce.
Vessel Setup
Is it a masthead or is it a fractionally rigged boat? The balance of sails between the mainsail and the head sails are crucial factors in determining the sail LP. This is where sail designers often step in to fine-tune the specs so that you achieve a nice balance between your mainsail and headsail, a set up that the boat was designed to uphold.
Based on your track position, furling system and clew heights these points might restrict the overall size of your headsail as well. For example, with your furling system consider how this might work with the tack? You might need to consider installing a pennant or a spacer to ensure the sails work effectively in your existing rigging set up.
With the clew, where does this sit in relation to the clew car or the track or rail? If you have a masthead rig and are looking into a 150% LP but the position of your blocks and track only allow for 135% you will need to consider either opting for a smaller sail or installing a new track farther aft.
These are just common considerations, and as mentioned it is always advisable to have a chat with your sail maker and designer so that they can give you tailored advice on your own personal situation and what sail configuration will work best for your boat.
If you need a headsail for your boat. Please request a quote, and we'll send you one quickly! Our designers will help you pick the best headsail LP% for your specific applications.