"*" indicates required fields
Your Trusted Partner for Hunter 34's:
Building Lasting Relationships Through Quality and Precision
Our team of Precision Sails experts conducted extensive research on the web to gather information about the specific sailboat in question. We thoroughly scoured various online sources to compile relevant and accurate information for the boat owner. Our team carefully curated the information to ensure that it would be helpful and informative for the user. We understand the importance of having a deep understanding of your boat's features, and our goal is to provide comprehensive and reliable information that will enable boat owners to make informed decisions about their sailing experience. By sharing our expertise and knowledge, we hope to empower our customers to get the most out of their sailing adventures.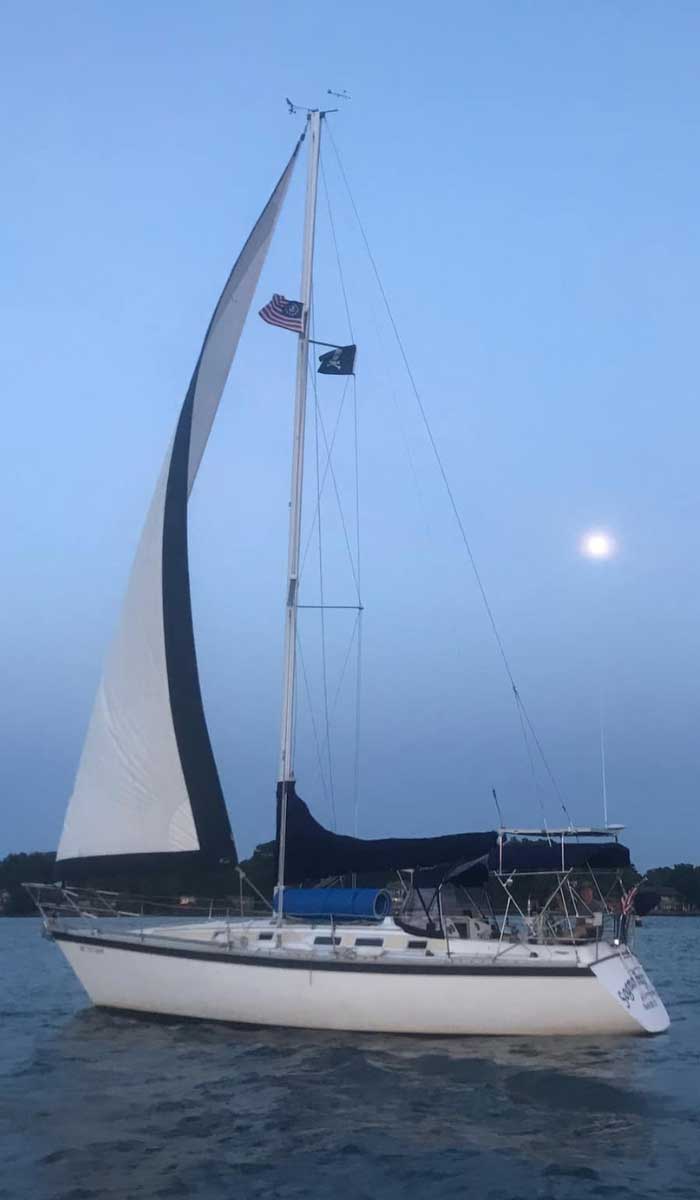 All About Your Hunter 34
Rig Specifications
These are the specifications provided by the designers, but even from the factory, these boats may not be identical. The reason for this is that the sail industry often contracts manufacturing to different sources in order to achieve economies of scale. What this means is – your Hunter 34 may be more unique than you initially thought.
It's important to note that boats are also frequently customized, so if you suspect that work has been done on yours, it's best to take your own measurements. When ordering a sail, we will advise you if using the manufacturer's specifications is appropriate, or if we require you to complete our own measurement forms.
I: 41.00 ft / 12.50 m
J: 11.50 ft / 3.51 m
P: 37.00 ft / 11.28 m
E: 11.50 ft / 3.51 m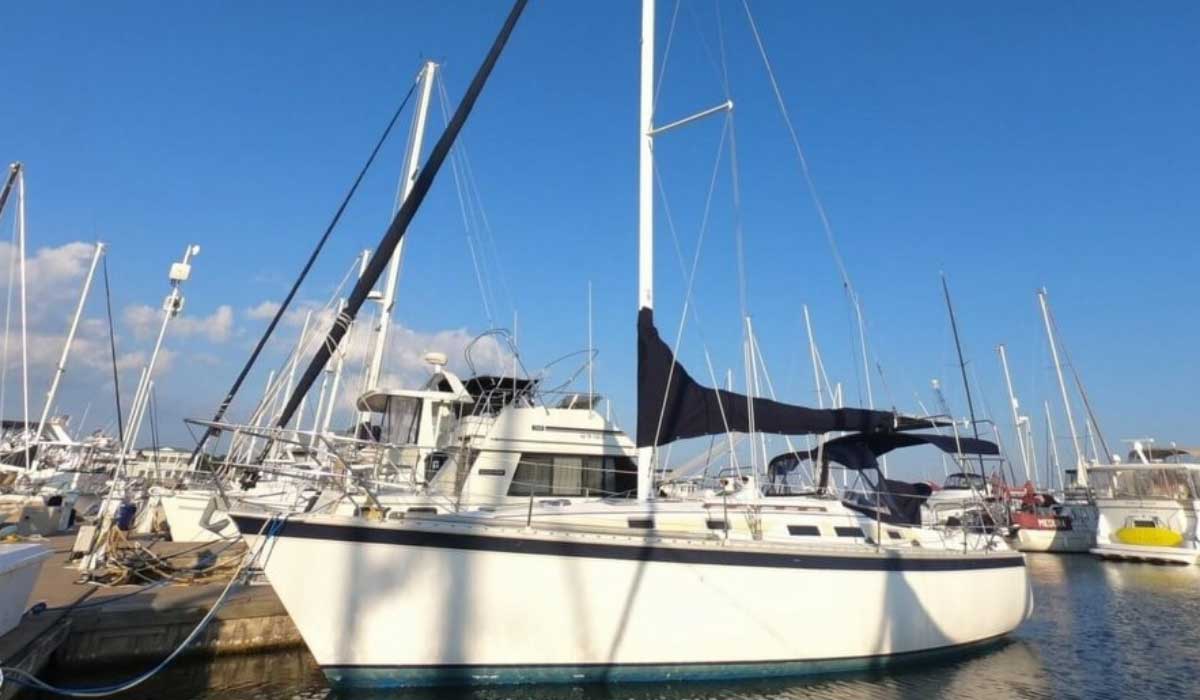 Sailing Performance
The Hunter 34 is known for its unmatched acceleration; it is a fast sailor that races well in a light breeze. When it comes to tackling seven to twelve wind knots, it showcases unbeatable cruising speed. With an average Performance Handicap Racing Fleet (PHRF) of 153.
The boat has a tall rig with a high aspect ratio and a deep keel, giving it excellent stability and a good turn of speed. The large sail area allows the Hunter 34 to sail close to the wind, while the high-aspect rudder gives the skipper excellent control. The Hunter 34 is an excellent boat for sailors who may race but still want the comfort of a cruiser, with a comfortable motion at sea and a good balance between speed and stability.
Despite its impressive performance, the Hunter 34 remains a comfortable and versatile option for cruising, offering a smooth ride and a good balance between speed and stability. With its easy handling and responsive nature, this sailboat is an excellent choice for anyone looking to take their sailing skills to the next level.
Interior
The interior of the Hunter 34 is spacious and comfortable, with plenty of natural light and ventilation. The salon has a large U-shaped settee that converts into a double berth, and a straight settee opposite that can be used as a single berth. The galley is located to port and has a two-burner stove, a refrigerator, and a double sink. The head is located to starboard and has a marine toilet, a sink, and a shower.
The Hunter 34 has two private cabins, one forward and one aft. The forward cabin has a V-berth and plenty of storage space, while the aft cabin has a double berth and a hanging locker. The boat can comfortably sleep six passengers.
History and Design
The Hunter 34 was designed by renowned naval architect, Glenn Henderson, and first introduced in 1982. The Hunter 34 is a mid-sized sailboat that was designed for performance and comfort. The sailboat has a length overall of 34'6″, a beam of 11'7″, and a draft of 5'6″.
The Hunter 34 has a sleek and modern design that is both aesthetically pleasing and functional. The hull is constructed of hand-laid fiberglass with a balsa-cored deck and hull sides, which provides durability and reduces the risk of damage in rough waters. The keel is made of lead, which provides stability and helps the boat maintain its course in strong winds.The boat's deck is designed to be spacious and easy to navigate. The cockpit is well-protected from the elements and is equipped with all the necessary controls for sailing. The boat's rigging is also well-designed and allows for easy sail handling.
Sail Plan
The Hunter 34's sail plan is customizable, allowing sailors to adjust the rig to suit their individual sailing preferences. But, most Hunter 34's sail plans are set up with a large, fully battened mainsail and a roller furling jib. It sports a complex B&R rig that is fitted with swept-back spreaders and diamond shrouds.
The mainsail is set on a sturdy mast with two sets of spreaders, providing excellent stability and support. The boom is equipped with a rigid vang, allowing for better control of the sail and preventing excessive movement in high winds. The jib is easily deployed and controlled using a roller furling system, making sail handling manageable for both solo and crewed sailing.
The sail plan is designed to optimize the boat's performance, making it easy to handle in a variety of wind conditions.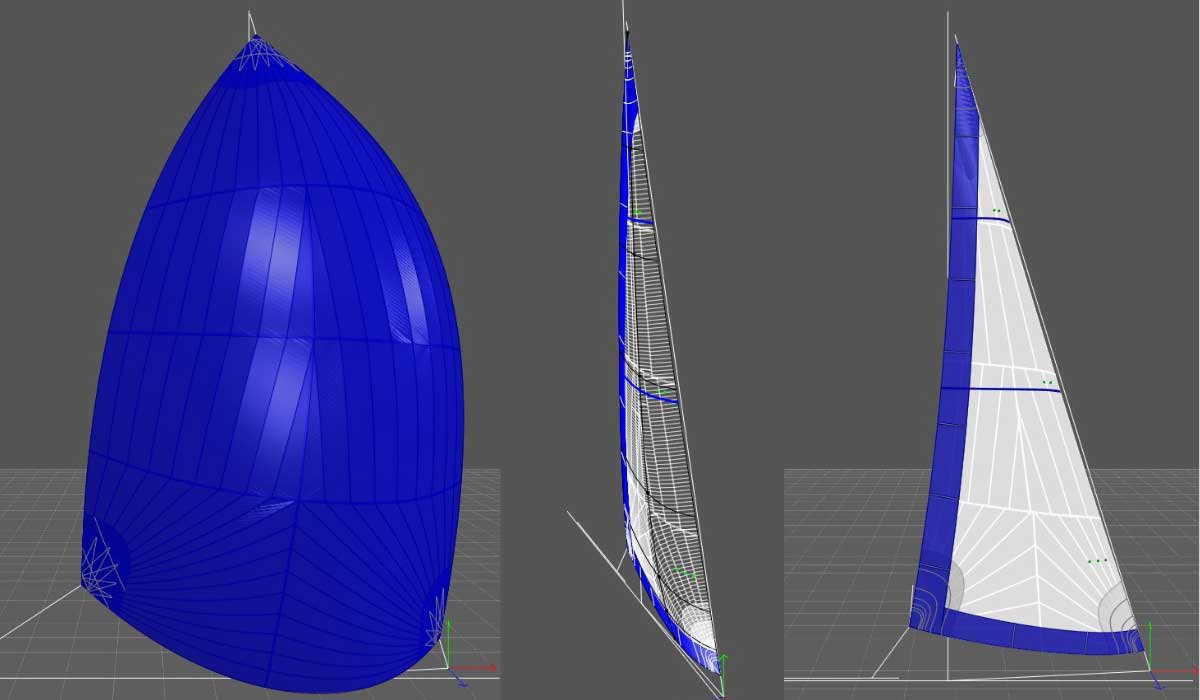 Overview
The Hunter 34 is a versatile and reliable sailboat that is perfect for both cruising and racing. With its sleek design, excellent performance, and comfortable interior, it is no wonder that this boat has become a favorite among sailors around the world.
Recommended Sails For Your Hunter 34
We would love to help you enhance your sailing experience on your Hunter 34. That's why we have put together a list of expertly curated sail recommendations just for you. You can find more information about each sail and what makes our designs stand out by following the links to our education page.
Request a Hunter 34 Quote
Looking to buy a new headsail or mainsail for your Hunter 34? Request a free quote from Precision Sails for a new custom sail. Our team will work with you to design the perfect sail for you.
Request a Quote