Upgrade Your Sail: A Journey Through Customizing Sails with Precision Sails
Are you an avid sailor looking to upgrade your sails but have no idea where to start? With so many options available, it can be an intimidating and confusing process. However, upgrading your sails is an important investment that can have a significant impact on your sailing experience. In this blog post, we follow a pretty famous adventuring couple on their journey to upgrading and customizing their sails with the help of yours truly – Precision Sails.
Meet the Couple – Sailing Zephyr
James and Nats AKA: Sailing Zephyr are no strangers to the salty life. They have been sailing for over 20,000 nautical miles with their current sails, and they know it's time to upgrade. However, they had no idea where to begin. They decide to reach out to the experts at Precision Sails to guide them through the process.
They made this awesome video all about their process – How to BUY the BEST SAILS in the WORLD for YOUR SAILBOAT
*Their words not ours, but we definitely agree*
About Precision Sails
Precision Sales is an independent sail loft based in Sidney, BC, with a passion for helping sailors of locations, backgrounds, and skill levels. We offer a personalized approach to sail customization, taking into account your unique needs and preferences to create sails that are tailor-made for you.
The Sail Customization Process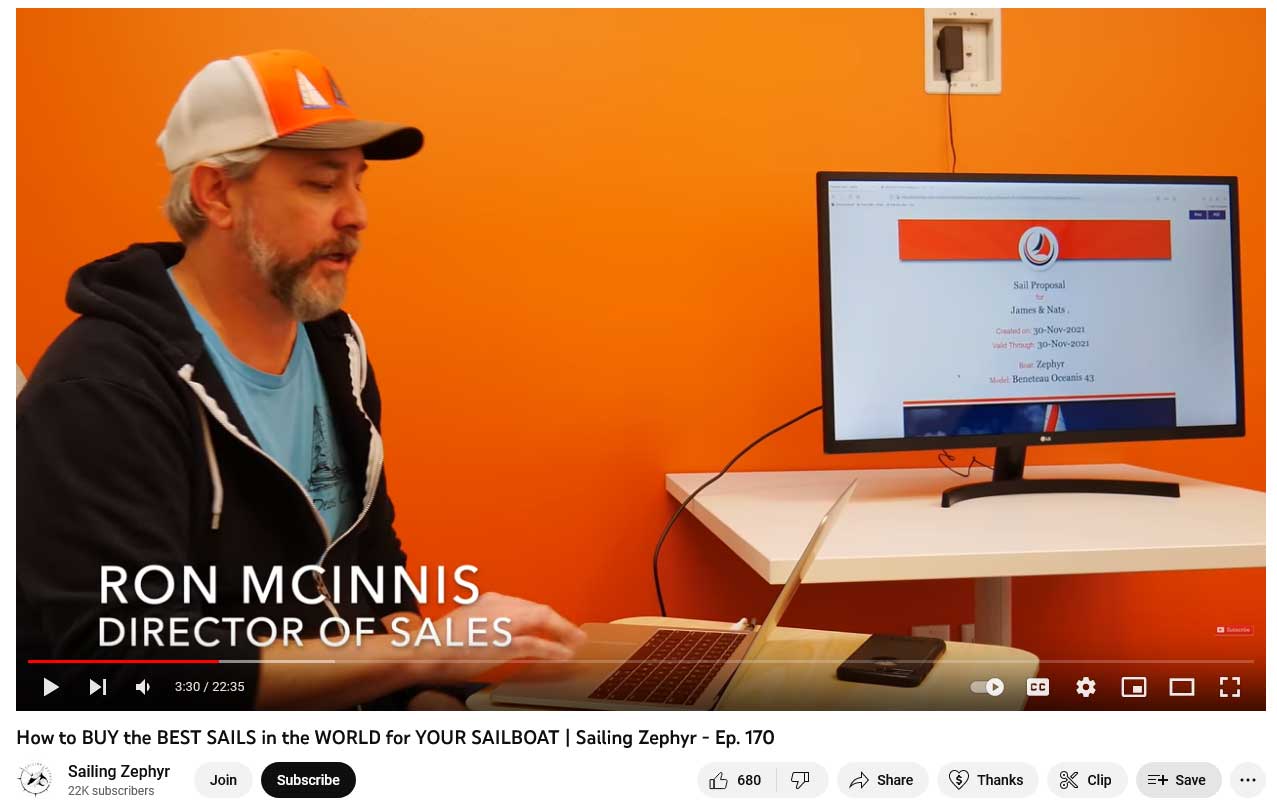 In the video, Zephyr heads to the Precision Sails office to start the sail customization process. They meet with Ron Mcinnis, who introduces them to the world of sail cloth and industry trends. He explains how Precision Sails takes an educational and consultative approach to sail customization, making sure that their customers are well-informed and educated about the options available to them.
Ron Mcinnis emphasizes the importance of educating oneself before making a buying decision. He explains that even if you have gone through this process before, the cloth industry changes so rapidly that you may have to start from scratch. So, take your time, educate yourself, and make a good buying decision.
Precision Sails takes pride in being an independent sail loft. We don't fly a franchise flag, and we don't have geographic limitations that restrict us from doing business with anyone. This approach allows us to focus on the unique needs of each customer, regardless of their sailing style or experience.
Stand Out Features
Customer service
Education
Consultation
Design
The Quote Process
Precision Sails' quote system is more robust than others. We focus on education and try to explain the sail-making world and where we fit in as much detail as possible, making sure that our customers understand the process.
Our Perfect Fit approach starts long before we ever pick up a needle and thread, it starts with your needs and can span a wide range of sail customization options, taking into account the intended uses of the sail and the type of sailor.
To ensure the Perfect Fit we want to know about:
The Boat
The Sailor
Area of Sailing
The Result
After the consultation, Zephyr is presented with several sail customization options that are tailored to their unique needs and preferences. Precision Sails takes into account the couple's sailing style, the weather conditions they typically sail in, and their budget.
Overview
Upgrading your sails can have a significant impact on your sailing experience. It's a crucial investment that should be made with care and consideration. Precision Sails can guide you through the process, ensuring that you make a well-informed and educated buying decision.
Tips and Advice
Remember to take your time, educate yourself, and choose a sail customization option that fits your unique needs and preferences. Upgrading your boat's sails can be a significant investment, so it's essential to make an informed decision. Here are some tips and advice to help you along the way:
Do your research: Learn as much as you can about sailmaking, sailcloth, and sail design before you start calling. This industry changes rapidly, make sure you are up to date.
Get multiple quotes: Don't be afraid to shop around and get quotes from several sailmakers. Compare prices, services, and warranties before making a decision. Here is more information about our company – Why Choose Precision Sails – What Sets Us Apart From Other Lofts
Consider your sailing style: Think about how you use your boat and your sailing goals. This will help you and the sailmaker design sails that meet your specific needs.
Don't be afraid to ask, you can request a quote from us without even speaking to a person using our digital quote system. If you prefer to speak with an expert, give us a call and we are happy to help. Request a Quote
Thank You Sailing Zephyr
We want to thank them for doing this video on their experience as its an opportunity to showcase the sail customization process and the experts who guide sailors through it. Our brand is all about education and removing the information barriers behind the sailcraft industry – hopefully after watching Zephyrs video you get a lot more information, and a little more confidence that you're in the right hands for your next sail.