"*" indicates required fields
Catalina 22 Sailboat
First built in 1970, the Catalina 22 is one of the most popular sailboats developed. It is currently built by Catalina Yachts in the United States. It has also been built and marketed by Cooper Enterprises in Canada, in Australia as the Boomaroo 22 and then Catalina 22, and in the United Kingdom as the Alacrity and Jaguar 22.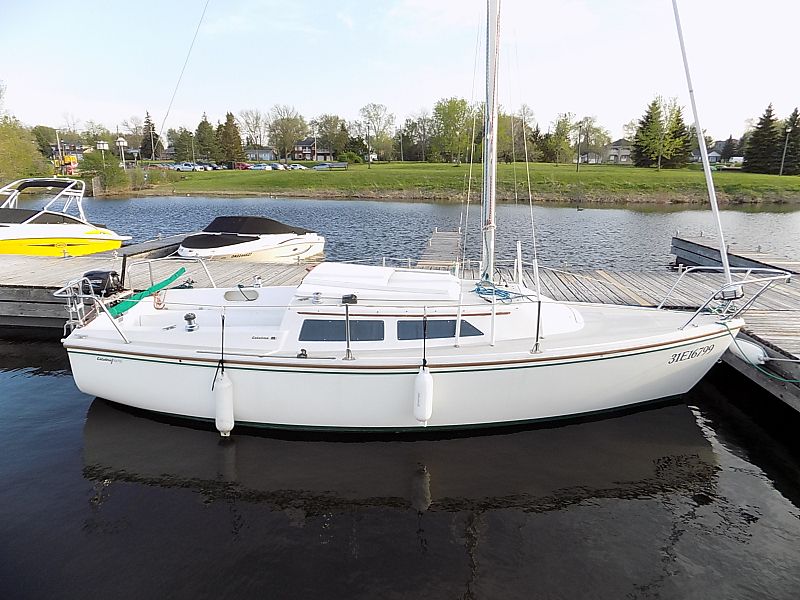 A popular choice designed for convenience and comfort.
Designed by Frank V. Butler, the Catalina 22 has a retractable keel, which makes it easy to transport by trailer. This is an important factor for those who don't mind transferring it from home to water and who like to save mooring fees. The transportability also appeals to those who like to explore different starting points on their adventures.
This design has proven to be a resounding commercial success and is produced in several models. A fixed-keel model was launched in the 1970s and an optional winged keel version in 1986. For a full biography of the Catalina and its versions, check www.catalinayachts.com.
Overall Design
This is a smaller craft intended for recreational use. It has teak wood trim over a fiberglass body. It has a masthead sloop rig, raked stem, vertical transom, self-bailing cockpit. The transom-hung rudder is controlled by a tiller and a fixed fin keel although some models come with folding centerboards, wing keels and fin keels. Sails appropriate for this craft include jib, 150% Genoa, and spinnaker. It also has two winches for the jib-sheets. Generally, a small outboard motor will be used for docking and maneuverability.
Amenities include:
Under-seat lockers
Forward "V" berth with privacy curtain and port berth
Dining area that includes a table and gallery that also stores under the cockpit
Fore-deck hatch for ventilation
Options can include a head stowable under the port berth and "pop top" fitted into the companionway hatch to increase height.
For the past half-century, Catalina's have remained a widespread choice in sailboats. It maintains versatility and new designs reflect the needs of the owner/sailors. It is a good investment for today's enjoyment and resale value.
Catalina 22 Variations
Catalina 22/Catalina 22 FK (Fixed Keel Variant of the Catalina 22 with Folding Keel)
The original Catalina 22 has an overall length of 21.5 feet and a waterline length of 9.33 feet. It drafts 5 feet with the centerboard down and 1.67 feet with it retracted. In the 1970s a fixed keel version of the Catalina 22 was offered. This model has a Performance Handicap Racing Fleet (PHRF) handicap that ranges from 243 to 280 and averages at 270. Both have a hull speed of 5.89 kn.
Catalina 22 MKII/Catalina 22 SK
The Mark II was manufactured from 1995 to 2004. With a standard keel it drafts at 3.5 feet and 2.5 feet when equipped with the optional shoal draft wing keel. A centerboard equipped style will draft at 5 feet (centerboard extended) and 2 feet (centerboard retracted). The retraction feature is particularly convenient for beaching or when transporting from site to site. It has an overall length of 23.83 feet and a waterline length of 19.33 feet. This sailboat is sometimes called "New Design" and was made to accommodate a longer cabin trunk, larger interior, and an optional wing keel.
Catalina 22 Sport
This is the latest version of the Catalina line was developed to satisfy the original dimensions and weight of the initial model but with a larger cockpit. It was initially named Capri 22 swing keel. There are optional amenities that include cloth cushions rather than the standard vinyl, a swim ladder, and lifelines. The overall length measures 23.83 feet with a waterline length of 19.3 feet. The draft is 5 feet with a lowered centerboard and 1.67 with the centerboard raised. The hull speed is 5.9 kn.
Request a Catalina 22 Quote
Looking to buy a new headsail or mainsail for your Catalina 22? Request a free quote from Precision Sails for a new custom sail. Our team will work with you to design the perfect sail for you.
Request a Quote