Oxley Sails
Oxley Sails products are developed by the design studio Ralf Groesel Design. This exceptional product line includes two models of self-stabilizing headsails that are a true testament to modern sailing technology.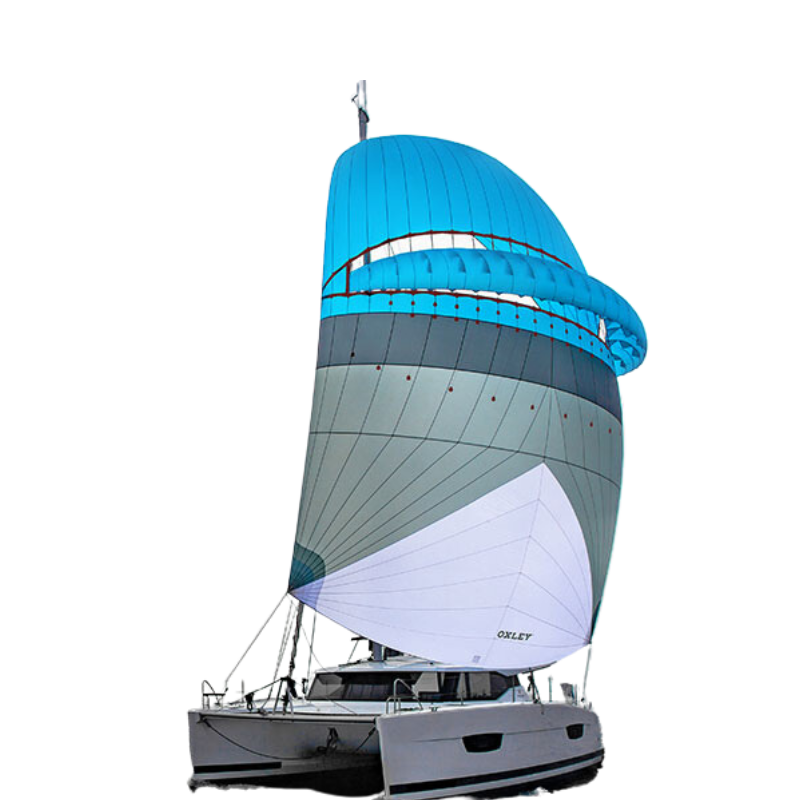 Standout Features of Oxley Sails Designs
If you're used to sailing with a conventional spinnaker or gennaker, you'll quickly notice that Oxley's self-stabilizing sails, BORA and LEVANTE, have something different – a stabilization lift generating wing located in the upper part of the sail body. This is a key design aspect that sets these sails apart from the standard downwind sail.
Wind Angle Versatility
When you choose the BORA or LEVANTE sails, you can expect unparalleled versatility and a significant upgrade to your lightwind sailing experience. With a wider range of accessible angles, you may even be able to get rid of the rest of your downwind sail inventory. That's how versatile Oxley Sails truly is.
The Stabilization Wing in Action
The wing helps to create lift, which stabilizes the sail and helps it to maintain its shape in changing wind conditions. This means that you can sail more efficiently and with greater ease, without having to constantly adjust your sail trim. The result is a smoother and more enjoyable sailing experience.
With Oxley's BORA and LEVANTE sails, you can enjoy a smoother and more efficient sailing experience without the need for constant adjustments. These sails are designed to automatically stabilize themselves, making them incredibly easy to use, even for novice sailors.
What is the Difference?
Compared to a conventional Spinnaker/Gennaker, you'll notice this sail has something different. That stabalization lift generating wing in the upper part of the sail body. That is the key design aspect of the self-stabilizing sails, BORA and LEVANTE.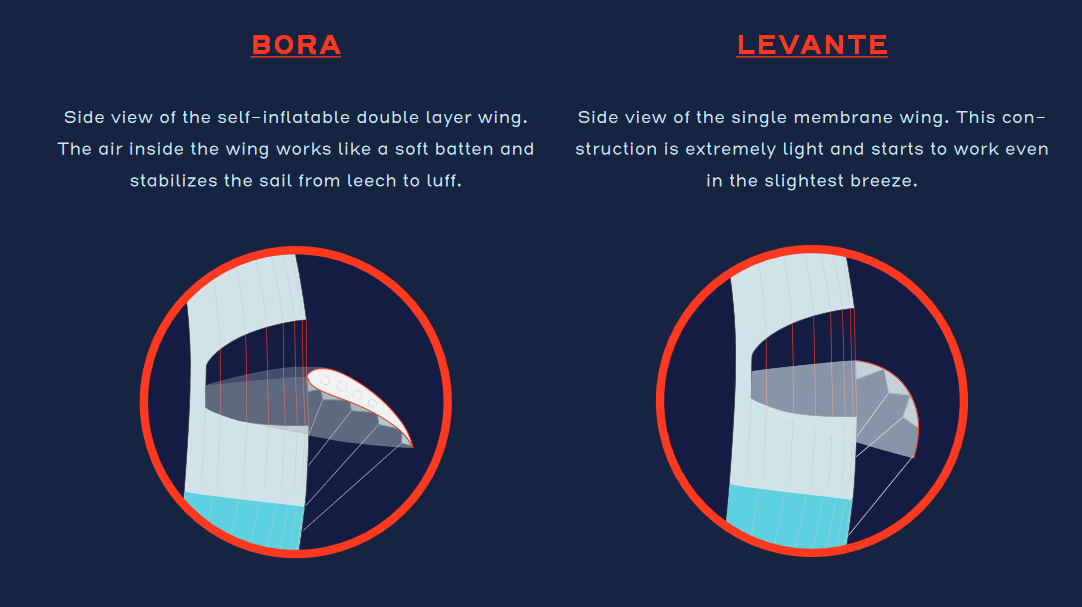 Higher Range of Accessible Angles
Looking for a light wind sail that can perform well in a variety of wind angles? Look no further than a Oxley Sail! Using a flat-radius design allows for greater versatility and accessibility, meaning you can take on a wider range of wind conditions. Plus, with Oxley's innovative design, this sail can replace both your gennaker and spinnaker, giving you the utility of a multitool in one efficient package. That means you can enjoy the same wind range as both of those sails, but with only one to worry about.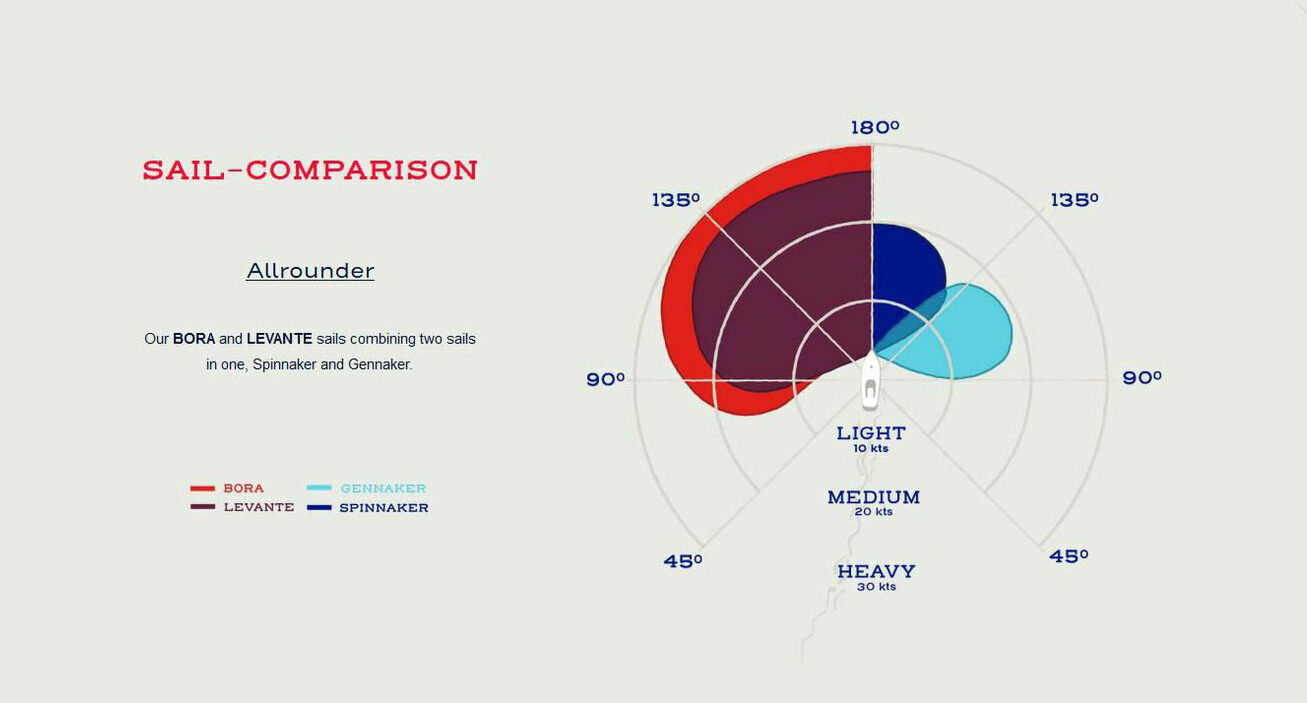 Designed with Cruising in Mind
Thanks to their innovative design, these sails automatically stabilize themselves, providing a smoother and more efficient sailing experience without the need for constant adjustments. Enjoy a relaxed cruising experience even without a Spinnaker pole. In addition to its wide range of applications, this sail provides another important benefit: comfort. It's easy to use, even in challenging conditions, and its reduced movements in both the rig and the boat create a new sensation of overall ease.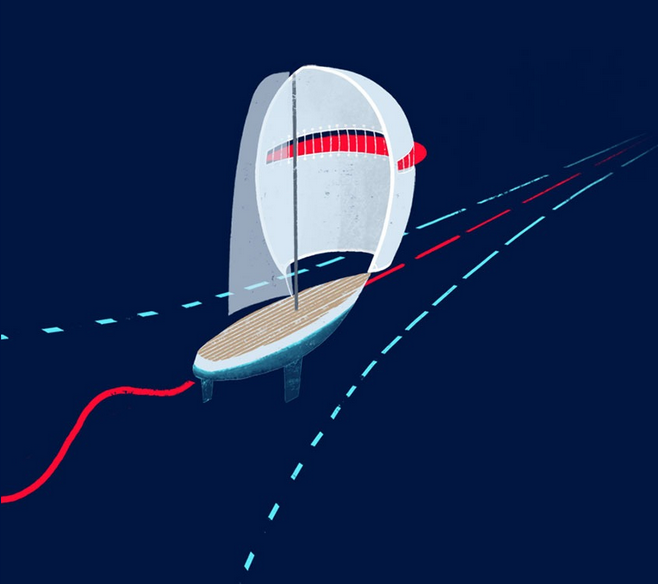 Standard Color Choices
If you're looking to make a statement on the water, a bold and brightly colored headsail is the way to go. And with Oxley Sails, you have a variety of bold colors to choose from to perfectly match your preferences. Whether you want to go for a classic look with solid colors, or you prefer something more eye-catching, we have you covered. Plus, high-quality ultra light nylon fabrics ensure that your bold and beautiful sail will look great and perform even better for years to come. Trust Oxley Sails to help you turn heads and take your sailing to the next level.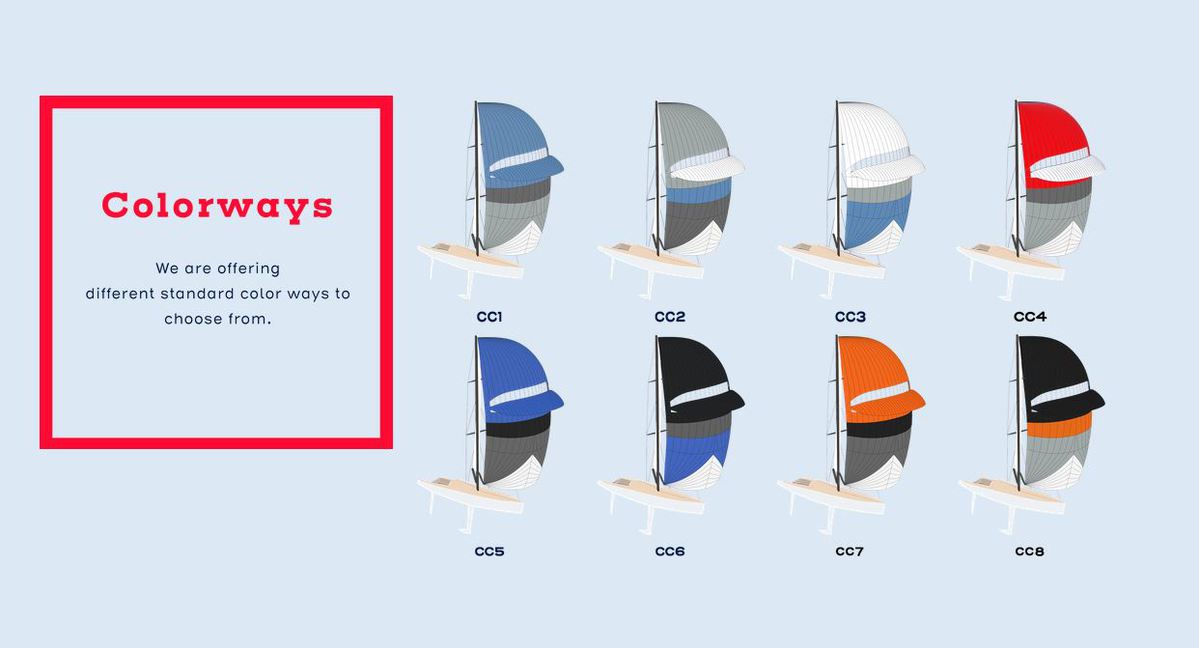 Shop Oxley Sail's Product Line
Precision Sails carries the latest lineup of Oxley's self-stabilizing products. View the sizes and colors available of self-stabilizing sails, BORA and LEVANTE.
See Pricing