"*" indicates required fields
Precision 18 Sailboat
The Precision 18 yacht is an exciting sailing companion for those who love the sea. Its designer was Jim Taylor from Precision Boat Works in the USA. The company launched this model in 1984 and produced 500 units of the Precision 18 ever since.
This sailing boat is recognized for its small size and high performance. It boasts a suitable 17'5" length and can be easily trailered behind small cars. Below the secure deck, there is ample room for four people to fit in. When the filler cushion drops, it forms a 6' 6" v-berth for optimal comfort. It is engineered with a built-in ventilation system and an emergency exit. Four cabin windows provide a view of the sea and allow ample daylight to pass through.
This model carries a 48-quart cooler, starboard, and a 12-volt battery. Its interior is built with strong fiberglass and hand-laminated hull skin; this makes the boat durable and safe. The outside of the deck is protected with a vinyl rub rail. It weighs 1100 lb. and is propelled by a powerful auxiliary engine. Its long, shallow keel enables the boat to remain steady while moving and thus prevents turbulence inside the deck. With a beam of 7.42 ft., the Precision 18 offers a whole lot of stability. It is steered with a Bermuda rig with a 19.00 ft. mainsail, 20.00 ft. mainsail luff, 5.50 ft. height, and 8.25 ft. base.
Even though it has a compact size, its features and high performance make it an exhilarating sailing boat. If you're looking for a new Sail for your Precision 18, request a quote below.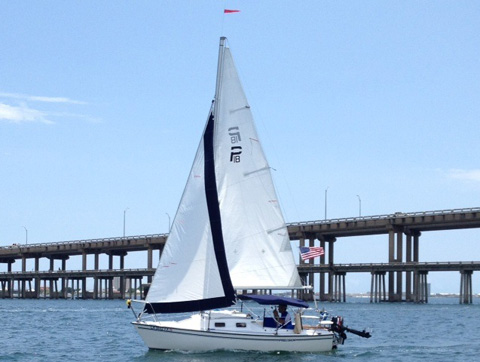 Request a Precision 18 Quote
Looking to buy a new headsail or mainsail for your Precision 18? Request a free quote from Precision Sails for a new custom sail. Our team will work with you to design the perfect sail for you.
Request a Quote