"*" indicates required fields
Pearson 303 Sailboat
Pearson Yachts introduced Pearson 303 in the year 1983. By this time, its designer, Bill Shaw, had built over a thousand boats for the company. Shaw's idea behind this particular model's design was to introduce the biggest 30-footer sailing boat that can be handled by a small family.
Taking a quick look at Shaw's Pearson 303, one can analyze that the two objectives have been duly met. Its hull is made up of solid fiberglass, while the bottom, decks, and cabin are cored with grain balsa sheets. The internal structure is dominated by a mix of fiberglass and plywood bulkheads. It has a 25' 5' waterline and a moderately narrow 10' 11" beam. One of the best features of the P303 is the 6' 3" headroom interior. Just like Shaw's other sailboats, this one offers a whole lot of space and comfort; it is adorned with a V-berth, folding table, starboard settee, and port hanging lockers. The cockpit itself is large enough for four adults to cruise comfortably.
This model has a displacement/length ratio of 274 and sail area/displacement ratio of 15.6 and can thus be easily steered. The 30-footer uses a Japanese Yanmar 13 HP diesel engine and a skeg-mounted rudder. Though it is far from being a racer, the boat offers balance and impressive off wind performance. Unlike Shaw's multihull boats, the Pearson 303 is built with only one hull; it boasts a 30.29 ft. LOA and 25.37 ft. LWL. It uses a Bermuda rig with a total sail area of 456 sq. ft. and a headsail of 270.68 sq. ft.
Truly, Shaw was successful in creating a big coastal cruiser that offers a comfortable cruising experience.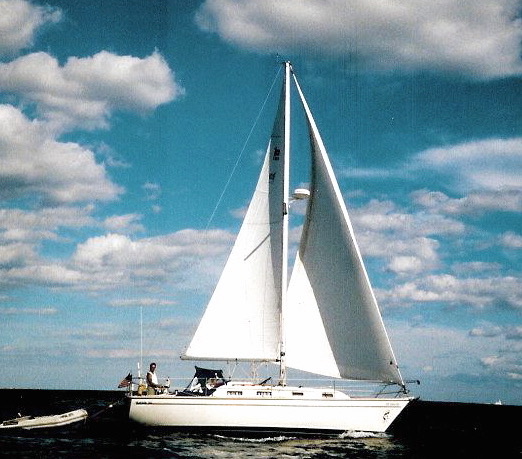 Request a Pearson 303 Quote
Looking to buy a new headsail or mainsail for your Pearson 303? Request a free quote from Precision Sails for a new custom sail. Our team will work with you to design the perfect sail for you.
Request a Quote