"*" indicates required fields
Hunter 410 Sailboat
The Hunter 410 is a recreational keelboat designed by the Hunter Design Team. It was manufactured by the Hunter Marine and introduced to the market in 1998. Though this design went out of production a long time ago, hardcore sailors still desire it. As an American sailboat, the Hunter 410 is big, spacious, and comfortable to handle.
It features an internally-mounted space rudder that is controlled by a wheel and a fin keel. The vessel itself weighs 20,200 lb. and carries a lead ballast of 7,400 lb. It has a length overall (LOA) of 43.42 ft. The waterline length (LWL) is leveled at 37.83 ft. This design is fitted with a small Japanese Yanmar 50 HP diesel engine with a tank that stores up to 51 US gallons of fuel. It is also equipped with a freshwater tank that holds up to 147 US gallons of water. It features a masthead sloop with a foretriangle height of 47.77 ft., a foretriangle base of 16.16 ft., a mainsail luff of 45.25 ft., and a mainsail foot of 19.25 ft. Its sail performance is enhanced by a mainsail 435.53 sq. ft. and a jib area of 385.98 sq. ft. As a recreational keelboat, it has an average Performance Handicap Racing Fleet (PHRF) of 108.
Its interior is woven with fiberglass and wood trim. The cabin has a double berth, dressing room, bathroom, walk-in shower, three burner stove, microwave, refrigerator, and a corner sink. Besides that, the cabin and salon are equipped with a cross-ventilation system, double-door system, and air conditioning ducts.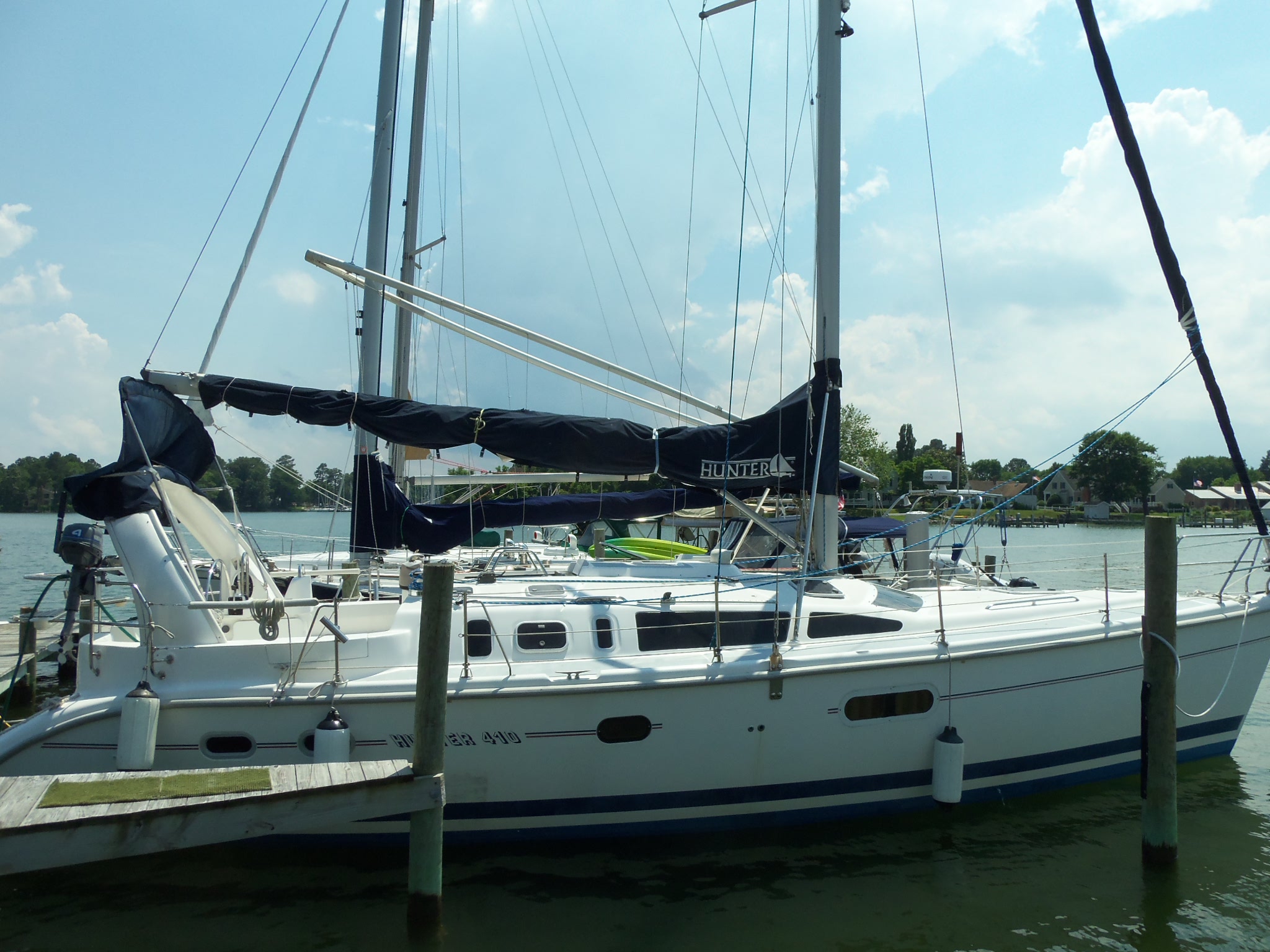 Request a Hunter 410 Quote
Looking to buy a new headsail or mainsail for your Hunter 410? Request a free quote from Precision Sails for a new custom sail. Our team will work with you to design the perfect sail for you.
Request a Quote