"*" indicates required fields
Hunter 260 Sailboat
The Hunter 260 is a small recreational sailing yacht designed by the famed boat designer, Rob Mazza. The design was bought by David E. Marlow of the Hunter Marine; the company built its first Hunter 260 sailboat in 1997. After eight years of on-demand production, it went out of production in 2005.
This American sailboat is mainly made with fiberglass. Despite its small size, it can carry 5,000 lb. of weight. Like Mazza's Hunter 26, the H260 is a trailer sailor; it can be towed to a vehicle and transported anywhere. Trailering is made easy by its 6.00 ft. daft and 1.75 ft. centerboard.
The sailboat features a monohull and carries a transom-hung rudder with a folding centerboard keel. It is built with a modern B&R rig with a 29.21 ft. foretriangle height, 9.46 ft. foretriangle base, 30.54 ft. mainsail luff, and 10.50 ft. mainsail foot. When it comes to sails, the Hunter 260 boasts an adequate 160.34 sq. ft. mainsail area and 138.16 sq. ft. jib area.
This recreational keelboat is propelled by a self-contained outboard motor, ideal for a small sailboat of its size. It has a Performance Handicap Racing Fleet (PHRF) of 213; this design can reach a high of 220 and a low of 206. When it comes to accommodation, this sailor has enough space for a family of four. It is ideal for a weekend getaway as it provides a steady, safe, and comfortable ride.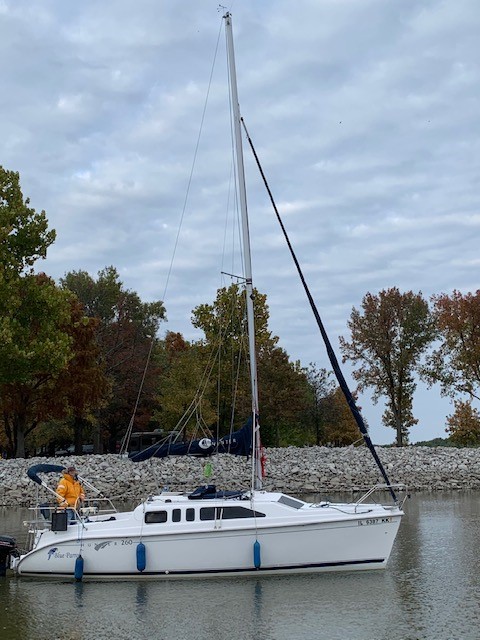 Request a Hunter 260 Quote
Looking to buy a new headsail or mainsail for your Hunter 260? Request a free quote from Precision Sails for a new custom sail. Our team will work with you to design the perfect sail for you.
Request a Quote