"*" indicates required fields
C.S. 36 Sailboat
The C.S. 36 was designed by Raymond Wall, and it was first built in 1978. C.S. 36 is a Canadian sailboat. C.S. 36 boat was a commercial hit, and 60 of these boats were sold during the first month of its production. The C.S 36 was replaced by the C.S. 36 Merlin, which was designed by Tony Castro. After that, the C.S. 36 was known as the C.S. 36 Traditional.
C.S. 36 is a recreational keelboat, mainly made of fiberglass. IT has a balsa wood-cored deck. The boat has a masthead sloop rig with an internally-mounted spade-type transom-hung rudder with a fixed keel. CS 36 displaces 15,500 lb (7031 kg) and it can carry 6500 lb (2948 kg) of lead ballast. It has a draft of 6.25 ft (1.91m) along with a standard keel and an optional shoal draft keel with 4.92 ft (1.50m). C.S. 36 have the shoal draft version displaces 15,650 lb (7099 kg) and 6650 lb (3016 kg) of lead ballast. It is fitted with a Westerbeke diesel engine of 30 hp (22kW) or a Volvo engine of 28 hp (21 kW) or a Mitsubishi motor of 33 hp (25 kW). C.S. 36 has a PHRF racing average handicap of 126 with a high of 135 and a low of 123, along with a hull speed of 7.33 kn (13.58 km/h).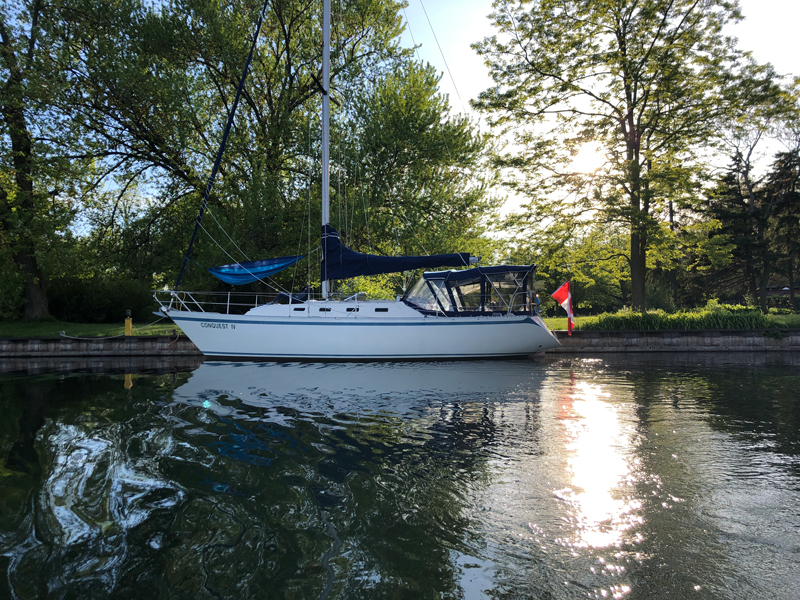 See our CEO Darryl install a headsail and a mainsail on a Canadian Navy owned sailboat!
Request a CS 36 Quote
Looking to buy a new headsail or mainsail for your CS 36? Request a free quote from Precision Sails for a new custom sail. Our team will work with you to design the perfect sail for you.
Request a Quote